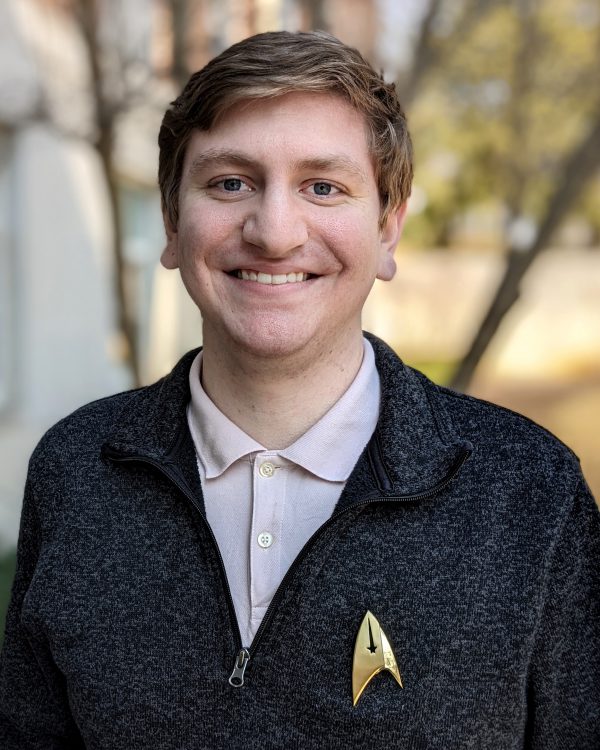 A passion for community engagement and political activism has driven course selection, campaign work and internships for Thomas Lichtenberg '23. Now, that commitment has helped Lichtenberg join the 2022-23 cohort of Newman Civic Fellows.
The fellowship is a year-long program through Campus Compact, a Boston-based nonprofit that advances public service in higher education. The fellowship recognizes and supports students who demonstrate a commitment to finding solutions for challenges facing their communities. The 2022-23 cohort includes 173 students from 38 states, Washington, D.C., and Mexico.
College presidents and chancellors nominate one student from their campus for the fellowship, based on the student's community engagement and potential for public leadership.
Kalamazoo College President Jorge G. Gonzalez's statement praised Lichtenberg for being "a student leader who has dedicated his college career to advocating for civil rights, centering his work on advocating for those with disabilities and the expansion of mental health resources. Thomas has focused his academic journey on understanding political and social systems, data analysis and advocacy."
Lichtenberg got his start in community involvement as a child in Farmington, Michigan, when his mother started signing him up for service programs, foremost among them the Junior Optimists.
"I am autistic so social skills didn't come as naturally to me as they did to everyone," Lichtenberg said. "Going to things like service clubs was a great way for me to interact with others as well as do some good for the community."
In his first year at K, Lichtenberg interned with the Jon Hoadley campaign for Congress before taking on a paying job for the campaign. He found inspiration in the youth involvement and high energy of the campaign, as well as Hoadley's commitment to progressive issues.
A double major in political science and philosophy with a math minor, Lichtenberg has worked with a political science professor on coding polling information and as a philosophy teaching assistant.
In fall 2021, he completed a strategic communications internship with the Judge David L. Bazelon Center for Mental Health Law in Washington, D.C., which works to protect and advance the civil rights of adults and children with mental illness or developmental disabilities.
Between work and internships, Lichtenberg has sought out classes at K to broaden and strengthen his political perspective. His favorite course, on constitutional law, gave him the opportunity to write case briefs. He chose to focus on legal methods and precedent that could be used to guarantee civil rights to a greater extent.
The Newman Fellowship provides students with a year of training and networking opportunities to develop personal, professional and civic growth. Lichtenberg is especially looking forward to trainings on optimizing social activism.
"I used to be involved in programs like the Junior Optimists, which really didn't take advantage of that and didn't recruit new members," Lichtenberg said. "A lot of the work I've done since then has been in organizations that already had that down. I'd like to get that perspective on how to build that movement up for myself."
Lichtenberg hopes he can apply what he learns in those trainings to revitalize the pre-law club at K as well as the Star Trek Club he started in 2019. He admires how new iterations of Star Trek are tackling complex issues, and sees potential for great discussions of social activism in television.
He also hopes to intern at the 9th Circuit Court in Kalamazoo this summer and intern for the Leadership Conference in the fall to work on voting and civil rights policy.
His Senior Integrated Project is still in the planning stages, but Lichtenberg hopes to focus on mental health law on college campuses.
"When I was working at Bazelon, I found some colleges that did not follow the Americans with Disabilities Act or the Rehabilitation Act," Lichtenberg said. "It was shocking, as a student with autism, to see that such atrocities could be committed."
After graduating from K, Lichtenberg plans to attend law school. For now, he looks forward to continuing his activism with support from the Newman Fellowship.
"I was honestly surprised that it was me who got the fellowship," Lichtenberg said. "I know that K has a vibrant social activism community. I feel honored that they chose me to continue that legacy. It's a lot to look up to, but I'm excited to try to meet their expectations and I hope that I do."