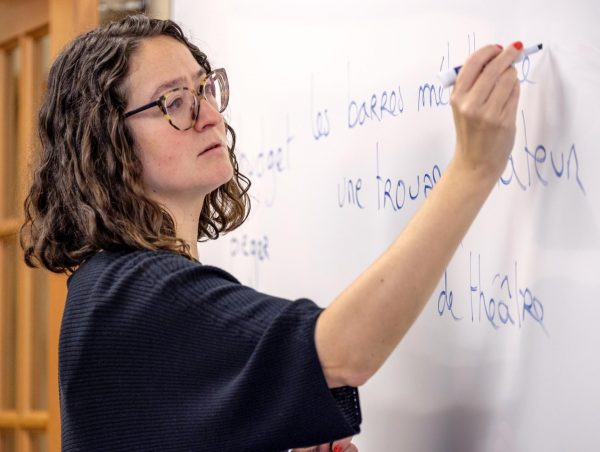 The National Endowment for the Humanities (NEH) is awarding Kalamazoo College a $500,000 grant through the American Rescue Plan to help offset financial losses incurred as a result of the pandemic.
In total, the NEH is giving $87.8 million to 300 cultural and educational institutions, 90 of which are colleges and universities.
"The American Rescue Plan recognizes that the cultural and educational sectors are essential components of the United States economy and civic life, vital to the health and resilience of American communities," NEH Acting Chairman Adam Wolfson said. "These new grants will provide a lifeline to the country's colleges and universities, museums, libraries, archives, historical sites and societies, save thousands of jobs in the humanities placed at risk by the pandemic, and help bring economic recovery to cultural and educational institutions and those they serve."
At K specifically, the grant will help fortify the College's language programs. Enrollment in language courses has waned over the past year, in part because the pandemic affected study abroad opportunities. The money will support the hiring and retention of foreign language faculty and staff; sustain student interest in language programs; revitalize programs in Arabic, Hebrew and ancient Greek; provide faculty better opportunities for research; and bolster study abroad to ensure it remains affordable as it restarts this term.
Associate Provost Katie MacLean, who is an associate professor of Spanish, said the honor of receiving the grant underscores K's reputation for the humanities and study abroad programs.
"Study abroad is among the most popular answers students provide when they're asked, 'Why did you choose K?'" MacLean said. She and Jessica Fowle—K's director of grants, fellowships and research—submitted the grant proposal on the institution's behalf while providing proof the emergency short-term funds would combat pandemic-related issues and add value rather than apply a temporary fix.
"As a liberal arts college, the vitality of the humanities is important to our institutional identity and languages have a symbiotic relationship with study abroad," MacLean said. "To me, this is a lot of money for humanities programs, which shows how much of an honor this is. That's exciting for us."