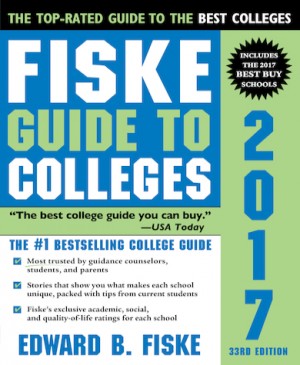 Kalamazoo College once again is included in the annual "Fiske Guide to Colleges," a popular and useful resource for high school students and their families researching prospective colleges, compiled by former New York Times education editor Edward B. Fiske, a top independent voice in college admissions.
Fiske is a selective, subjective and systematic look at 300-plus colleges and universities in the United States, Canada and the UK. It's available as a paperback book, as an iPad app on iTunes and a web program on CollegeCountdown.com.
Readers will discover the real personality of a college based on a broad range of subjects, including student body, academics, social life, financial aid, campus setting, housing, food, and extracurricular activities.
According to Fiske, "Kalamazoo is a small liberal arts school that opens up the world to its students—literally. An impressive 80 percent of Kalamazoo Hornets study abroad thanks to the
ingenious K-Plan, a quarter system that allows students to study abroad one, two, or three academic terms. And if you need an extra boost to round out that résumé, there is an extensive internship program."
Other quotes from the review of Kalamazoo College in Fiske Guide to Colleges 2017:
"Kalamazoo aims to prepare students for real life by helping them synthesize the liberal arts education they receive on campus with their experiences abroad. 'The rigor of classes makes the academic climate seem competitive at times but it is pretty collaborative,' says a sophomore."
"'Being a liberal arts school, people are doing very cool and exciting things in all of the departments,' one student says."
"K students are very passionate and determined to make a difference…"
"[Students] take a liberal arts curriculum that includes language proficiency, a first-year writing seminar, sophomore and senior seminars, as well as a senior individualized project—an internship, directed research, or a traditional thesis—basically anything that caps off each student's education in some meaningful way."
"Professors give students lots of individual attention and are rewarded with some of Michigan's highest faculty salaries. "Every professor I've had has been passionate about what they teach and accessible outside of class," says a senior."
"There are always tons of things to do on campus, like movies, concerts, speakers, and events," an economics major reports. Students look forward to a casino night called Monte Carlo, homecoming, Spring Fling, and the Day of Gracious Living, a spring day where, without prior warning, classes are canceled and students relax by taking day trips or helping beautify the campus. (One popular T-shirt: 'The end of learning is gracious living.')"
Fiske uses data supplied by colleges and gathered by Fiske researchers. These data can sometimes be out of date by the time the book is published. For example, K's 2016 deadline for Early Decision I and Early Action admission applications is Nov. 1, not Nov. 15, as reported by Fiske. Also, K's six-year graduation rate is more than 80 percent, not 77 percent, as reported by Fiske. Additionally, K's newest major, Critical Ethnic Studies is not "coming in 2016," as reported in the book. It arrived in fall 2015.
Edward B. Fiske served for seventeen years as education editor of the New York Times, where he realized that college-bound students and their families needed better information on which to base their educational choices. He is also the coauthor of the "Fiske Guide to Getting into the Right College" and "Fiske Real College Essays That Work."