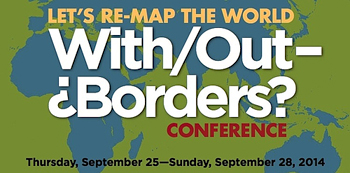 Amidst the controversy surrounding the nearly 60,000 undocumented and unaccompanied youth who have migrated to the United States in recent months, primarily from Central America, international experts on immigrant and undocumented youth will convene at Kalamazoo College. Their gathering is part of the With/Out – ¿Borders? conference hosted by the Kalamazoo College Arcus Center for Social Justice Leadership (September 25 through 28). Conference events related to this timely topic include:
* Roundtables exploring migration and identity on both sides of the U.S./Mexico border, as well as the nature and impact of relations at that border both locally and globally.
* A daylong Think Tank on networks and support for undocumented youth and those working with them, held in collaboration with Kalamazoo's Hispanic American Council. And,
* A workshop and performance by acclaimed performance artist and MacArthur "Genius" Guillermo Gómez-Peña, whose eclectic "Chicano cyberpunk" pieces often focus on the intercultural experience of Mexicans in the US.
Participants also will include James Roberts (University of Maryland School of Social Work and Johns Hopkins), Rudy Lozano (Chicago immigrant rights activist), and Lulú Martínez (undocumented student at the University of Illinois at Chicago and one of the Dream Nine). Local participants include Lucy Guevara-Vélez of Western Michigan University, Jill Hermann-Wilmarth and Simona Moti of Kalamazoo College, and Lori Mercedes and Adam Poole of the Hispanic American Council.
All activists, artists, students, researchers, and others interested in immigration and social justice are invited to attend the With/Out – ¿Borders? conference. Registration is on a sliding scale from $35 – $125, and group rates are available. Space is limited, and interested persons are urged to register as soon as possible. The four-day conference features discussion, workshops, a film festival and performances on important hot-button issues, including immigration and migration, the Israeli/Palestinian conflict, activism and art, and urban revolt and renewal.
The mission of the Arcus Center for Social Justice Leadership is to support the pursuit of human rights and social justice by developing emerging leaders and sustaining existing leaders in the field of human rights and social justice, creating a pivotal role for liberal arts education in engendering a more just world.
Kalamazoo College (www.kzoo.edu), founded in Kalamazoo, Mich., in 1833, is a nationally recognized liberal arts and sciences college and the creator of the K-Plan that emphasizes rigorous scholarship, experiential learning, leadership development, and international and intercultural engagement. Kalamazoo College does more in four years so students can do more in a lifetime.