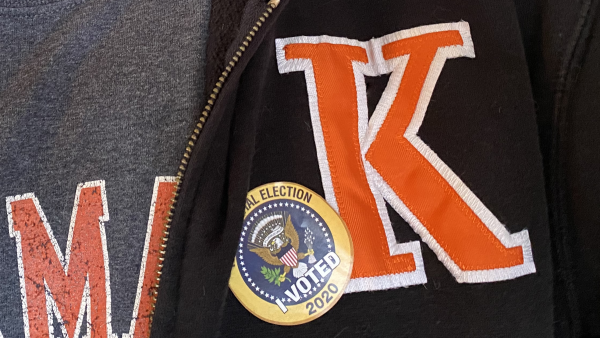 K Votes, a nonpartisan coalition from the Mary Jane Underwood Stryker Center for Civic Engagement (CCE), is offering help and events to Kalamazoo College students who plan to vote on Election Day.
Beginning at 9 a.m. Tuesday, students voting in Kalamazoo can reserve a bicycle to ride to the polls. Reserve your bike for a two-hour time slot at the Outdoor Programs website and pick it up with a helmet and lock at Red Square on campus. Maps to area polling places will be available. Additional bikes will be available on a first-come, first-served basis.
From 9 a.m. to 5 p.m. at Red Square, K Votes will distribute voting go-bags, voting guides, maps to local polling places and more. Please observe COVID-19 safety practices by wearing a mask, practicing social distancing and completing a health screening before coming to campus. For voters who still need to register, there will be guided walks to the Kalamazoo City Clerk's Office leaving Red Square at 10 a.m. and 2 p.m.
For voting help from a distance, call or text K Votes from 7 to 11 a.m. Tuesday with questions about voting, ID necessities, finding candidate information and more at 269.849.9421 or 269.364.0855. You may also visit K Votes' Voting 101 page at any time for information on registering, candidates and polling places.
As polls close, students across the country are invited to join Associate Professor of Political Science Justin Berry for virtual events at 7 and 8 p.m. Berry will lead an election discussion through Zoom at 7, before a virtual election returns watch party through Microsoft Teams beginning at 8.
Find Zoom and Teams login information along with post-election resources at the CCE events page.