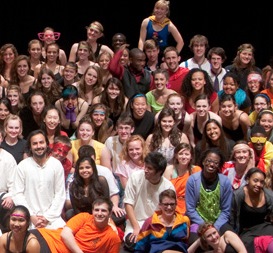 Kalamazoo College won the Outstanding Campus Collaboration Award and Program of the Year at the National Association of Campus Activities Mid America Region 2013 conference. It was the third year in a row that K was honored with either the Campus Collaboration Award or the Program of the Year in the region that includes colleges and universities throughout Michigan, Indiana, Ohio, West Virginia, Kentucky, and Illinois.
K's Student Activities Committee and the Office of Student Involvement claimed both awards on the basis of a single program—Zoo After Dark: Winter Quarter Quell (Hunger Games)—developed by the Childish Games Commission (CGC), a student run organization.
"CGC is a unique group on the K campus," said Assistant Director of Student Involvement Kate Yancho. "They meet at midnight every Friday and play games. Tag, Dodgeball, Kick-the-Can, Capture-the-Flag, etc. When they approached us about cosponsoring a Zoo After Dark (our late night series) with a Hunger Games themed event, we were more than excited to accept the challenge. As we began to plan the event, the campus began to buzz with excitement. 'What will this be like?' 'How will we play?' The anticipation was palpable."
Kate continues: "The CGC partnered with us on other events leading up to the event to help build more excitement. Our weekly craft series, Wind Down Wednesdays, most notably. Campus was blanketed with Mockingjays, and the leaders of the organization dressed as characters from the books throughout the week. We focused on the logistics and let the CGC focus on the rules and procedures for the game.
"On the night of the event, students excitedly entered our Hicks Student Center. The main gathering space was set up with food (Greasy Sae's Chili Bar, District Cupcakes, and more), skill testing workshops and activities (knot tying lanyards, mini bow and arrow craft, Mockingjay button making, and others), and a large screen with images from the Hunger Games as well as the soundtrack playing through the sound system. Then, districts offered tributes, the rules were explained, and the games began.
"But, how could the 225 people who came possibly all play? Well, they didn't. About 20 students acted as 'tributes' who were filmed via a live video feed that was broadcast into the main gathering space and the other participants became spectators in the 'Capitol.' They could send gifts, see the antics, get engaged and involved.
"The feedback we received from students who participated was spectacular. They loved this idea. CGC had offered Quidditch before, which was innovative and fun, but this really seemed to capture them. In fact, we are working on another Hunger Games themed event with this group currently. We love when students have these unique ideas. And, we love it even more when we can make them reality!"