If you need an antidote to the disappointment you may feel while watching world news, take heart that a Kalamazoo College alumna is doing what she can to stand up for international human rights and social justice as a humanitarian.
Sarah Fuhrman '07 is working as the director of humanitarian policy at InterAction, an alliance of non-governmental organizations and partners in the United States mobilizing its members to serve the world's most poor and vulnerable citizens while making the world a more prosperous place.
With InterAction and other non-governmental organizations, Fuhrman recently has traveled to South Sudan, where she embarked on a U.N. peer-to-peer mission to recommend improvements to the humanitarian response. She spent October in a similar capacity, traveling between Washington, D.C; Geneva, Switzerland, and Rome, Italy, to advocate for improvements to the humanitarian system. She is also part of a group that is producing practical measures to help armed actors mitigate conflict-induced food insecurity.
"We've been having a lot of conversations in the sector around decolonizing aid, power shifting and privilege," Fuhrman said. "I ask myself, every day, whether it still makes sense for me as a white woman from the global north to work in this field. The answer so far is still yes, that as a U.S. citizen, it's important that I push my government—the world's largest humanitarian donor—to do better. But I'm also open to the possibility that at some point the answer might change and this might no longer be the place where I can make the most difference."
Her push to make that difference began at K when she recognized that the world and all of us as citizens are more connected than we might think.
"I ended up at K because I wanted to go on study abroad," Fuhrman said. "I went to India for six months and then wrote my SIP in southern Thailand. Those experiences showed me how small the world is and it fostered my love for the international community."
After graduating and spending a year in AmeriCorps, Fuhrman attended Western Michigan University's Cooley Law School in Lansing, where she found a passion for international human rights and humanitarian law. That love led Fuhrman to pursue a Master of Laws, or LLM, at University College London.
"I originally thought I would go on to do a Ph.D. and spend my career in academia," Fuhrman said. "But I realized while I was in London that none of my professors and none of the other students in my cohort had ever worked for a government. I thought that if I were going to spend my career criticizing U.S. foreign policy, I should work for the U.S. government first and see what it was like on the inside. And I wanted to see whether international law really mattered for people when they needed it."
With those goals in mind, Fuhrman and her partner—Brennan McBride '07—packed up and moved to Washington, D.C., sight unseen. Fuhrman was hired into USAID's Bureau for Humanitarian Assistance, where she worked as a senior information officer for nearly four years, until 2019.
"I was deployed about 50% of the time. For example, I worked on the U.S. government's Iraq humanitarian response during the campaign to retake the city of Mosul from ISIS and then worked on regional responses in eastern and central Africa," Fuhrman said. "I worked on the Yemen humanitarian response and responded to an earthquake in Mexico. I got to see what it looks like when the U.S. government uses its power responsibly and what it looks like when it makes mistakes."
In 2020, Fuhrman moved on to roles as a humanitarian policy specialist and then the senior manager of humanitarian policy and advocacy with CARE, an organization that fights poverty and achieves social justice by empowering women and girls.
"I started at CARE right before the pandemic and was just getting my feet under me," Fuhrman said. "All of a sudden, COVID was dominating the news. My boss called me right before the World Health Organization declared a pandemic and said, 'Sarah, I think that COVID is going to be terrible for women and girls living in humanitarian settings. We should say something about it.'"
Within three days, Fuhrman and her boss had written and published the first paper on how COVID-19 would affect women and girls in crisis contexts. That later turned into a full scholarly article published in the BMJ Global Health journal with policy and programming recommendations.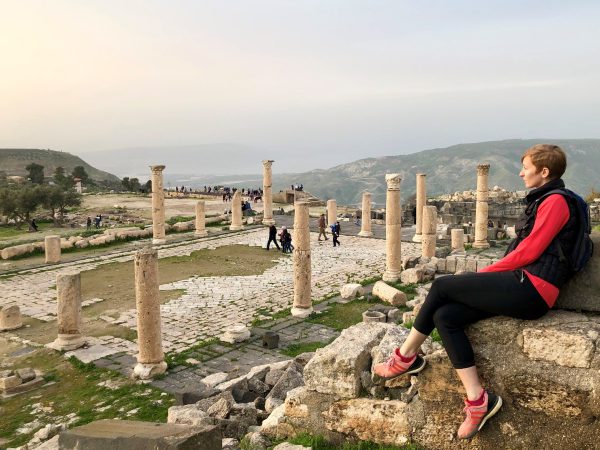 In the summer of 2021, CARE sent Fuhrman to Afghanistan ahead of the U.S. withdrawal, anticipating that humanitarian needs would escalate, but underestimating the speed with which the Afghan government would collapse. She admitted to enduring some tense moments.
"We knew that the U.S. was pulling out its troops," she said. "We knew that it was not going to go well. I was there to figure out how to help CARE scale up its humanitarian response, going all around Kabul, meeting with colleagues within CARE and others within the sector. What stands out to me is that no one thought the Taliban takeover was going to happen that fast. We were all talking in terms of months, and then it ended up being a matter of days. It was a hard time, because I had colleagues and friends in Afghanistan who were concerned about what would happen to them and their families. Many of those concerns came true."
Before leaving CARE, Fuhrman became a part-time adjunct professor at Columbia University in New York. Today, she continues teaching while also working for InterAction. Through her years of service in the humanitarian sector, she recognizes that it's easy to get discouraged by the frailty of international law, yet she believes there is reason for hope.
"I still wonder whether international law matters because I have seen governments and parties to conflicts violate international law on grand scales," she said. "What is the point of international law if governments don't abide by it, and more importantly, if we don't have good mechanisms to enforce it? It's technically against international humanitarian law for governments to prohibit humanitarians from accessing people in need and providing them with assistance, yet humanitarian access is one of the biggest challenges that I see in my work."
However, she said we still can hold U.S. leaders accountable and seek to make change for the better.
"We're at a unique moment where everything the U.S. government does has the potential to have an outsized impact. It could have an outsized impact in a negative way, entrenching inequalities and making things worse for generations to come. Or, we can help change the world's course and meet needs more effectively, so there are fewer humanitarian needs tomorrow," Fuhrman said. "It's up to us how we how we choose to use this moment."