Kalamazoo College has FOUR stops on tonight's monthly Art Hop around downtown Kalamazoo.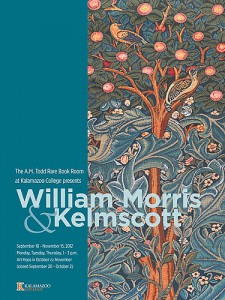 William Morris & Kelmscott: Works by the 19thCentury British Artist, writer, textile designer, and founder of Kelmscott Press. In the A.M. Todd Rare Book Room, Upjohn Library – 3rd Floor, on the K campus, 5-8 pm.
Fear into Fire: Reclaiming Black Male Identity through the Art of Tattooing. Presented by the Black Arts & Cultural Center and Kalamazoo College's Arcus Center for Social Justice Leadership. Epic Center, 359 S. Kalamazoo Mall – 2nd> Floor Atrium, 5-8 pm.

Paths Revisited: Paintings by Bernard Palchick, Professor of Art, Emeritus. Funded with support from the Kalamazoo Artistic Development Initiative and the Arts Council of Greater Kalamazoo. Epic Center, 359 S. Kalamazoo Mall – Suite 203, 5-8 pm.

Untold Stories: Works by six K seniors from Professor Sarah Lindley's Advanced Studio course (Annie Belle, Lizz Caputo, Hannah Knoll, Annie Swanson-Nystrom, Katherine Smith, and Elizabeth Yang). Park Trades Center, 326 W. Kalamazoo Ave., Studio 209-L, 6-9 pm.