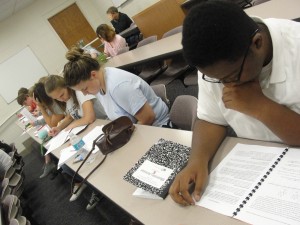 Kalamazoo College welcomes 24 local high school students to campus this week for Early Introductions to Health Careers Level II (EIH-II), a cooperative program between K and Western Michigan University Homer Stryker M.D. School of Medicine (WMed).
The program intends to foster biomedical science and health career aspirations for underrepresented minorities and disadvantaged high school students, grades 10-12, in Kalamazoo County. Students will participate in interactive-presentations, hands-on lab experiments, note-booking, and be exposed to physicians, health professionals in allied health, and basic scientists.
The program is designed to improve students problem solving and critical thinking skills and "help them dream a little bigger and have fun," said Dawn DeLuca, Healthcare Career Pathways Coordinator, Office of Health Equity and Community Affairs. According to DeLuca, EIH-II is part of Kalamazoo County's first pipeline educational initiative for health professions. It also includes EHI Level I, a program for elementary school students, and Kalamazoo Education Enrichment Pre-Med Summer Program (KEEPS), a program for students in their first two years of college.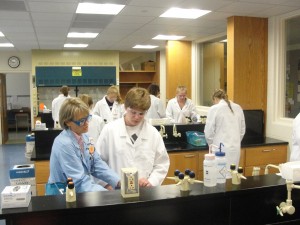 Two Kalamazoo College students are involved in KEEPS, which aims to add to the development of current undergraduate students who are science majors and interested in pursuing health professional careers through their participation as mentors and teaching assistants. The K students and high school students will also spend time with current WMed students, which include eight K alumni.
Laura Furge, Ph.D., associate provost and Roger F. and Harriet G. Varney Professor of Chemistry at K is leading EIH-II students through numerous presentations and experiments in K's Dow Science Center this week. Among students' activities will be learning basic lab safety and practices, talking about sodas and calculating how much soda they drink, conducting extraction and HPLC experiments, learning about enzymes via "toothpickase" activity, looking at the structure of proteins through 3D printing, and hosting a notebook competition and poster tour in Dow.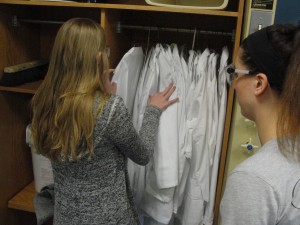 "Pipeline, pre-professional and enrichment programs are an important strategy for addressing the educational achievement gaps and diversifying the health professions and shortage of underrepresented minorities in the health professions," said DeLuca.
"We believe it may also contribute to reducing health disparities in students' communities through their improved knowledge about health, social determinants of health, and active citizenship through service learning with community organizations."