If you're a Michigander, a Kalamazoo College alumna is fighting for your health care.
A short time after graduating from K, Audrey Gerard '19 delayed treating what could have been a simple health issue because she had no health insurance. By delaying care, she needed to be hospitalized for eight days. She recovered, but without insurance coverage, her medical bills amounted to more than $100,000.
Thankfully, an emergency Medicare program pared down her costs. Yet her experience prompts her goal today of making sure you can avoid similar issues. Gerard works to expand access to medical care and insurance coverage across the state as the Health Care for All Organizer at Michigan United, a coalition of labor, business, social-service and civil-rights groups that fight for homeowners, renters, immigrant families, students and a variety of underrepresented constituencies.
"Talking about our medical needs is sort of taboo," Gerard said. "It's not something you're going to bring up at work or talk about at the dinner table because it's not the most pleasant thing. But once people start opening up and sharing their stories, they commonly start thinking that they've been directly and negatively impacted by issues surrounding their health care and they want to speak out. We want to support them."
Gerard's efforts in this respect were recognized in January when she received the Justice Warrior Award presented by the Council of Baptist Pastors of Detroit and Vicinity. The award is given to a community activist or organizer that led a community effort to bring about change on a local, county or statewide level. It was presented to Gerard for taking a risk, being courageous, and often conversing with people who disagreed with her about issues such as reproductive health and the U.S. Supreme Court overturning Roe v. Wade.
Gerard, Michigan United as a whole, and its volunteers were invited to a roundtable with Michigan Voices, a nonprofit organization that invests in grassroots campaigns to advance equity-seeking community efforts. The roundtable worked with the ACLU to write the legislation for Michigan's Reproductive Freedom for All initiative, leading people such as Gerard to rally support by collecting signatures all across the state. Gerard helped collect 1,400 signatures in an area of the Upper Peninsula that has about 4,000 residents.
Eventually, the initiative was approved for the midterm election ballot last fall as Proposal 3, and its ultimate success has since amended the state's constitution, providing individual rights to reproductive freedom, including the right to make and carry out pregnancy-related decisions.
"We realized this was a health care issue and we should absolutely be fighting on behalf of it," Gerard said. "I took a big risk being in an incredibly conservative, rural community, far away from where I grew up in Ann Arbor, to be bold and to fight on behalf of these policies. There was an outpouring of support, even from people we wouldn't have guessed would support it. They attended a rally that I organized, and they said they didn't want the government determining what they could or couldn't do with their bodies. We talked to 2,800 people here and knocked on that many doors to convey our point and make sure the Upper Peninsula was included in these critical conversations about reproductive health."
In her sophomore year in high school, Gerard decided to attend Early College Alliance at Eastern Michigan University where she found herself interested in advocacy work. While attending ECA, she landed a part-time job with the environmental advocacy group Clean Water Action where she found her passion and skill for civic engagement.
As a senior at K, Gerard worked with the Just Food Collective student organization to secure a hoop house on campus. She also began working for another organization as a volunteer on a local campaign seeking to keep an asylum seeker in Kalamazoo in 2019. In 2020, she joined Michigan United for a short-term position before staying on to begin her full-time career as the organization's statewide healthcare organizer.
Her full-time position was based in Kalamazoo at first, but she recognized a move to the Upper Peninsula was necessary if she and Michigan United wanted to effectively target health care equity across the state. After connecting with and consulting Governor Gretchen Whitmer and then-state Rep. Darrin Camilleri '14 on a COVID-19 health-care relief package, Gerard advocated for her relocation, and since, she has lived in rural Michigan, supporting health care efforts there and elsewhere across the state.
"We all have a health care story and a reason to fight for health care for all," Gerard said. "One of the biggest successes, I think, that we've had in this past year is getting people from rural Michigan involved in this work, because often people living in rural Michigan are the last to be thought about when it comes to health care policies, but they're also very directly impacted."
In 2022, Gerard's professional efforts started slowly when she invited about 50 people to help form a Michigan Community Health Care Committee.
"No one showed up," Gerard said. "One person eventually came and they were late. That's when it dawned on me that I wasn't getting people in their gut to feel strongly about prioritizing their health over the crazy-high cost of insurance, making meds affordable, and why we need to fight to stop medication rationing and outrageous prescription costs."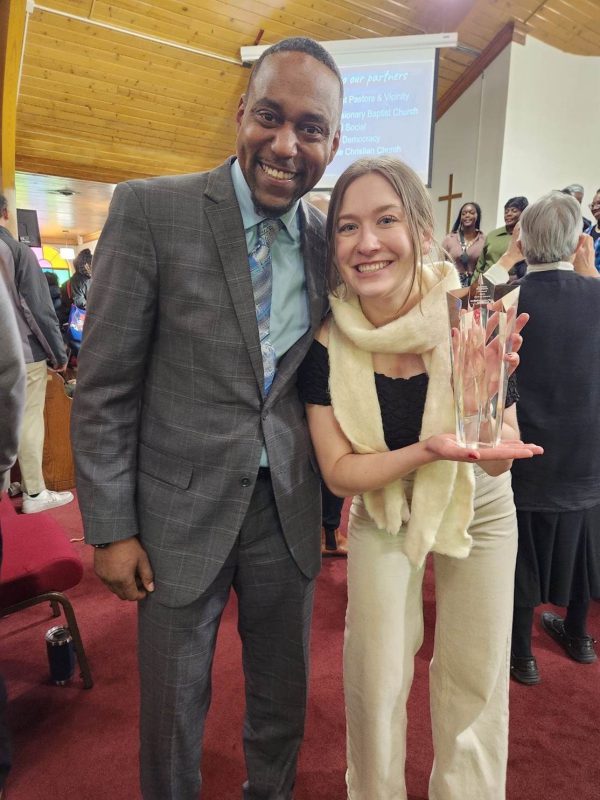 Health Care and the World Day of Social Justice
Kalamazoo College is featuring Audrey Gerard '19 on February 20, the World Day of Social Justice, for her work seeking health care equity across Michigan.
The United Nations first celebrated the World Day of Social Justice in 2009, when member states were invited to devote it to the promotion of national activities in accordance with the objectives and goals of the World Summit for Social Development.
As recognized by the World Summit, social development aims at social justice, solidarity, harmony and equality within and among countries and social justice, equality and equity constitute the fundamental values of all societies. To achieve "a society for all" governments made a commitment to the creation of a framework for action to promote social justice at national, regional and international levels. They also pledged to promote the equitable distribution of income and greater access to resources through equity and equality and opportunity for all.
The solution entailed hitting the road to talk with 405 Michiganders from across the state about their experiences with health care.
"I realized I needed to have direct, one-on-one conversations with people in Michigan about their health care stories, because every single person, no matter who it is, has one," Gerard said.
As she started, one conversation led to another as each interviewee referred Gerard to her next conversation.
"Slowly, as I did that, I was able to tell people about their skin in the game," Gerard said. "People started coming to the meetings. We ended up having more than 400 people from around the state join the committee, which was comprised of people from Grand Rapids, Kalamazoo, Flint, Detroit, and more recently, the Upper Peninsula."
Such work means Gerard and Michigan United can work directly with lawmakers and legislators through movement politics that accomplish social goals and continue fighting for health care efforts in the state. And as a result, you can expect Gerard and her colleagues to continue fighting for you.
"I give my biggest thanks to Ken Whitaker, the executive director of Michigan United," Gerard said. "When he started, he was a volunteer just like I was. He went through the hoops of becoming a leader, becoming active in his community, and inspiring people through his vision. Between him and his wife, Shanay Watson-Whitaker, who was the deputy director of the Reproductive Freedom for All campaign, I've developed as a professional in more ways than I could express. I'm also grateful for my parents because they were so chill with me, letting their teenage daughter knock on doors in Southeast Michigan on school nights for a year. That's built up my career and there's plenty of opportunity in Michigan to do some amazing work."