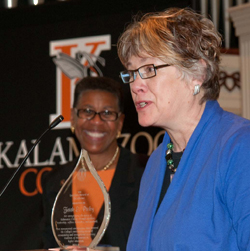 By Elaine Ezekiel '13
"Founders Day 2012" was the theme of the Week 4 (April 20) Community Reflection in Stetson Chapel. Sponsored by the Founders Day Committee, the event celebrated 179 years of community at Kalamazoo College by honoring members of its faculty and staff. After a welcome by Student Commission President Meredith L. Quinlan '12, President Eileen Wilson-Oyelaran gave a brief history of K's early founders. Kate Fodor '12 and Rachel Horness '13 sang a beautiful interpretation of Leo Delibes' Dome epais (Lakme), accompanied by Jack Brooks on piano.
Dean of Advising Zaide Pixley (pictured at right, with President Wilson-Oyelaran) read from her essay "Celebrating 179 Years of Community."
"Kalamazoo College is a place where we can ask hard questions, questions that don't have easy answers, questions that can't be reduced to sound bites, slogans and attacks," she said.
After reciting the names of K employees celebrating five, ten, 15, 20 and 25 years of service, Wilson-Oyelaran announced recipients of three key annual employee honors. Professor of English Bruce Mills received the Outstanding Advisor Award.  Gail Griffin, the Ann V. and Donald R. Parfet Distinguished Professor of English, received the Outstanding First-Year Advocate Award, and Zaide Pixley was awarded the Lux Esto Award of Excellence which honors an employee of 25 or more years of service for a superlative record of stewardship and innovation.
This year marked the first of an "Honorable Mention" category of the Lux Esto Award of Excellence. Honorable mention for their years of dedicated service to the College was made of nine of the eligible members of K's Facilities Management and Custodial Staff (John Charlier, Kolden Heldart, Doug Hilton, James Modderman, James Ringler, Michael Sawyer, Jeff Sherman, Jerry Vincent, and Ken Wielinga).
Community Reflection offers a unique forum for discussion, worship, performance, and community expression each Friday at 10:50 AM (refreshments at 10:30) in Stetson Chapel. The entire campus community and general public are invited. The Week 5 (April 27) Reflection will be "Yom HaShoah—Remembering the Holocaust Through Varied Perspectives," during which members of the Jewish Student Organization will reflect on the Holocaust and invite the community to consider how we can make the sacrifices of the past mean something for the future.