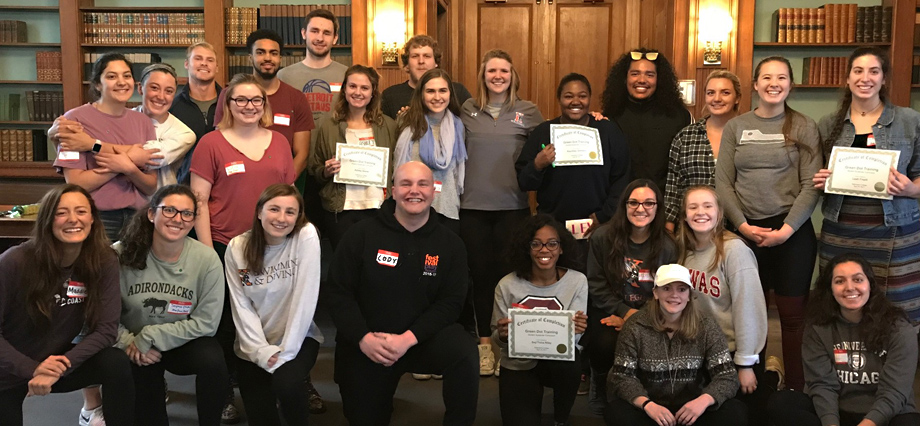 Twenty-four Kalamazoo College students and five K employee Green Dot-certified trainers launched the College's first bystander training session on April 29. It's one of several early steps toward the goal of a "greening" that will be year-round, forever.
Green Dot is a national prevention program that has proven effective in significantly reducing the likelihood of dating and domestic violence, stalking and sexual assault. Essential to the program's effectiveness are bystanders, people trained to safely interrupt or prevent harmful precursor behaviors associated with dating violence, stalking and sexual assault. In the program's iconography, a red dot is any person's choice to harm another person with words or actions. In any environment, or map, enough red dots create a norm where violence is tolerated. Green dots are small actions to intervene when a red dot is occurring or to prevent the likelihood of red dots at all. Small as they may be, Green Dot words and actions draw their power from the large numbers of people who commit to speak or do them. Together, enough Green Dots can change "worlds," small and large. And one of those worlds will be Kalamazoo College.
In late March some 30 faculty, staff and administrators completed four days of Green Dot "College Curriculum" training, which certified them to do bystander training for K students and overview training for K faculty and staff. One month—and a lot of preparation and practice—later the first bystander training took place in the Olmsted Room. It included students identified by their peers as well-respected and influential.
"The 24 students were highly engaged throughout the training," said Ellen Lassiter Collier, Director of Gender Equity at K. "This was a day-long event in the middle of a busy spring term, yet no one left the session." In fact, at least three students reported applying Green Dot interventions at parties or other events that very weekend.
"To establish a norm where the intolerance of violence is immediately and plainly evident—and a culture where everyone does their part to maintain that norm—will require a critical mass of K community members," said Lassiter Collier. "Many times it will be students who are most likely to be present in settings and situations where 'red dots' tend to occur. Students trained as bystanders are absolutely indispensable, so we were very gratified by the participation of these 24 early adopters."
Additional student bystander training is scheduled for the fall, and the "first" 24 will have contributed to the success of those sessions by providing the names of several score of other influential and well-respected students who will be invited to the fall training.
In concert with the effort to train a critical mass of student bystanders, employee Green Dot-certified trainers also will work with faculty and staff this spring and early and continuing into the fall.
The bystander trainers who joined Lassiter Collier on April 29 were Andrew Grayson '10, Admission; Laura Livingstone-McNelis '89, Department of Theatre Arts; Leslie Burke, Information Services; and Morgan Mahdavi '14, Arcus Center for Social Justice Leadership.
The 24 students included Julia Plomer ¹18, Maddie Tracey ¹17, Sidney Wall '17, Cody Colvin '18, Douglas Robinett '17, Leah Finelli '18, Ashley Henne '17, Sep'Tisha Riley '18, Kourtney Johnson '17, Tenley Mustonen '17, Amber Salome '18, Colleen Orwin '17, Elizabeth Clevenger '17, James Paprocki '18, Alex Dykema '19, Kiavanne Williams '18, Lilia Robins '18, Colleen Corrigan '17, Kaiya Herman Hilker '19, Sophie Higdon '19, Roger Hood '18, Rose Maylen '19, Malak Ghazal '19 and Lezlie Lull '20.
Funding for Kalamazoo College's Green Dot efforts comes from the State of Michigan Campus Sexual Assault Grant Program.