Kalamazoo College President Jorge G. Gonzalez has joined 10 other Great Lakes Colleges Association (GLCA) presidents in a joint statement titled "Pathways for Childhood Arrivals" regarding the Deferred Action for Childhood Arrivals (DACA) program.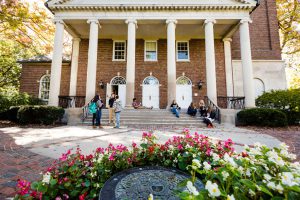 U.S. Attorney General Jeff Sessions announced last Tuesday that the Deferred Action for Childhood Arrivals order would end in six months. The GLCA statement supports a legislative solution to DACA.
"As a consortium of colleges in the Great Lakes region, we urge legislative action in support of the goals of the Deferred Action for Childhood Arrivals (DACA) program," the statement says. "The removal of this program will eliminate an important pathway to opportunity for motivated, constructive and committed young people."
The GLCA statement adds, "We believe the threat to the future of these young people is also a threat to the values we work so hard to instill. Dismantling DACA will undermine a tenet of our nation which has been present throughout our history: that hard work, achievement, and productive contribution to our society matter more than ethnicity or place of birth."
President Gonzalez also joined Western Michigan University President Edward Montgomery and Kalamazoo Valley Community College President Marilyn Schlack in a statement regarding DACA last week.