Imagine an opportunity to travel abroad, retrace your heritage, teach English in a foreign country, greet family you've never known and promote international understanding between cultures. Katie Johnson '18 will have that opportunity through a Fulbright U.S. Student Program grant that will take her to Lithuania this fall.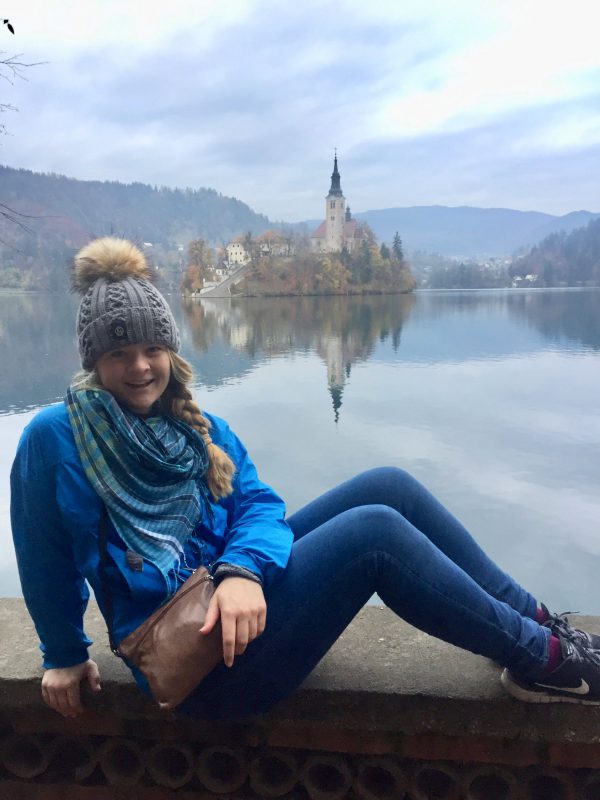 Johnson – a business major and psychology minor from Okemos, Michigan – has yet to receive the specific assignment that details her Fulbright destination city and school. She expects, however, to work in a rural village within about three hours of the capital, Vilnius.
Johnson will travel to Washington, D.C., for an orientation in July before heading to Lithuania in late August or September.
Kalamazoo College was identified as one of the top-producing Fulbright colleges and universities in the 2017-18 academic year. The Fulbright U.S. Student Program offers fellowships for U.S. graduating seniors, graduate students, young professionals and artists to research, study or teach English abroad for one academic year.
Such recognition is one of the highest honors the federal government gives with regard to scholarship and international exchange. Recipients of Fulbright grants are selected as a result of their academic or professional achievement, as well as demonstrated leadership potential in their fields, to promote international understanding.
"I feel very fortunate to have attended K," said Johnson, who has also served on the Athletic Leadership Council, received internships and held an externship at Ryzome Investment Advisors during her college years. "I don't think I would've had these opportunities at another school."
Johnson chose Kalamazoo College because attending would allow her to play for the women's lacrosse team while still getting to study abroad. That led her during her junior year to Budapest, Hungary, where the people she met and the independence she gained shaped her world view and sparked her desire to seek more adventures.
"I got back from study abroad and I decided to apply for a Fulbright because I wanted to study abroad again," Johnson said, noting she soon began a year-long application process. "I thought the opportunity to teach English was interesting. Plus, my grandfather is from Lithuania, and my grandma and great-grandma were teachers. It seemed like a great fit."
Since then, Johnson has begun learning Lithuanian through her grandfather.
"It's a hard language to pick up because only about 8 million people in the world speak it," Johnson said, although she is attending a church in Chicago where the sermons are in Lithuanian and talking with friends who have traveled to Lithuania. She also has a best friend from Estonia with whom she bonds over a similar culture and family background including grandparents who immigrated to the United States for the same reasons.
"I'm going to go and hope for the best because I want to understand more about the Lithuanian culture and how it has changed since my grandpa arrived after World War II," Johnson said.
Among recent K representatives receiving Fulbright grants, Johnson joins:
Andrea Beitel '17, who earned a research/study award and is in the United Kingdom.
Riley Cook '15, who earned a research/study award to travel to Germany.
Dejah Crystal '17, who earned an English teaching assistantship in Taiwan.
Sapana Gupta '17, who earned an English teaching assistantship in Germany.