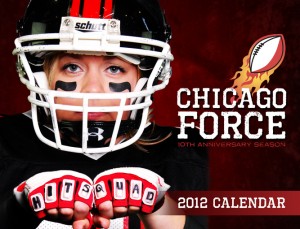 Call it "Study Abroad, The Sequel." Liz Okey '07 is returning to Europe, this time to Vantaa, Finland, as a member of "Team USA." She won't be playing volleyball, her sport of choice at K. Instead, she'll be playing on Team USA's offensive line in the International Federation of American Football (IFAF) Women's World Championship tournament. Okey plays on the offensive line for the Chicago Force, the Windy City's women's tackle football team. She and eight of her Force teammates were selected to play for Team USA, led by Force head coach John Konecki.
The first tournament for women's American-style football was held in 2010 in Stockholm, Sweden. Team USA returned with first-place honors, a championship Okey and teammates seek to defend. The tournament is held every three years.
Okey graduated from Kalamazoo College with a degree in Human Development and Social Relations. She studied abroad in Germany and was captain of the Hornet volleyball team. Shortly after graduation she moved to Chicago and joined the Force. She was one of 45 women to make the cut for Team USA. Training camp takes place in Chicago from June 23 through June 27.
Six countries will be participating in the 2013 tournament: Canada, the United States, Germany, Spain, Sweden, and Finland. The tournament takes place from June 28 through July 6. Team USA plays Sweden on June 30 and Germany on July 4. Gold and Bronze medal games are scheduled for July 6.
If you need to fire up for this tournament, give a listen to the official song of the 2013 Women′s World Championship:"Straight Up Crazy Amazon". Written and produced by the Finnish band "Embassy of Silence,"  think of the song as a K "Rikkety-Rak" with a heavy shot of metal and rock.