Environmentalism and environmental justice, involving the deepening and healing of our relationship with the land while acknowledging injustices within our current systems and trying to envision and embody alternatives, are important for students such as Orly Rubinfeld '20. Rubinfeld sees Earth Day, celebrated every April 22, as a day to reflect more deeply on why our reconnection to the land is so important and why we work for change.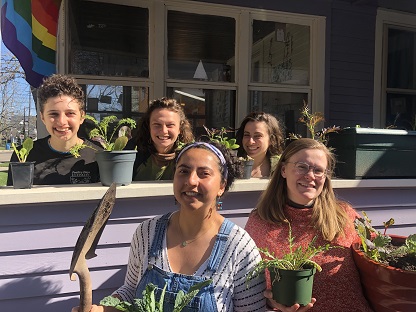 "Earth Day is an opportunity to re-center on our values," said Rubinfeld, an independent interdisciplinary major in Environmental Studies. "But we have to remember we have only one Earth and we've been pretty unkind to it. If we only pay attention one day a year, we won't solve our environmental problems. And not just planetary problems but how climate change and other environmental injustices are disproportionately impacting Black, Indigenous, People of Color (BIPOC) communities."
This year, though, is adding a few challenges to K's environmental efforts. For example, one way that students engage with food justice is through K's gardens, including the hoop house. A hoop house, a little like a green house, is a year-round environment for growing vegetables, flowers and other cold-sensitive plants. With distance learning keeping students away from the campus hoop house, students are finding ways to bring that experience home.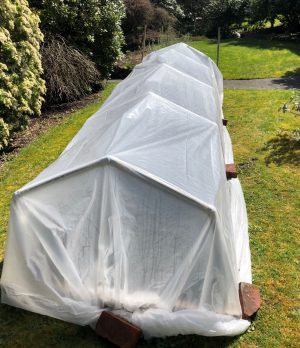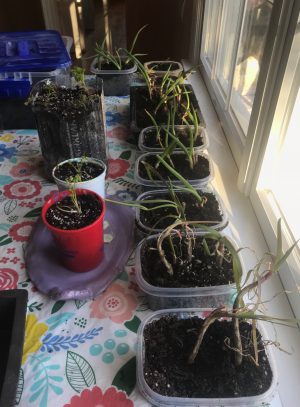 That's where Rubinfeld and several students like her come in. She is one of eight housemates living in Kalamazoo's Vine neighborhood this spring, sheltering in place together through Michigan's "Stay Home, Stay Safe" order and continuing the work they began at the hoop house, a facility raised in fall 2018 through the Just Food Collective. The student organization, an effort of the Mary Jane Underwood Stryker Center for Civic Engagement, wants to increase student awareness about the challenges and inequities within the food system. This is done while targeting nutritional inequities, climate change and other environmental injustices.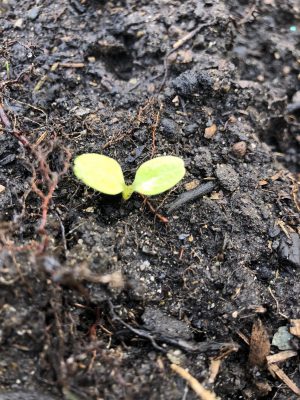 "Food insecurity has always been a problem," Rubinfeld said. "But in this unique moment, well-resourced people are paying attention at unprecedented levels so I think that's something we should try to take advantage of as we search for systems that allow people to have more sovereignty over their food systems."
Rubinfeld and her friends, who all lived together in an environmental justice Living Learning House on campus their sophomore year, have taken on the responsibility of bringing home the lessons they learned at the hoop house to pots and planters on their porch and in their home.
"Our goal was to do something small where we are in our urban space," Rubinfeld said.
And the Vine neighborhood roommates aren't the only students planting this spring. Nora Blanchard '22, is tending to plants at her home in Traverse City. Plus, Megan VanDyke '22 assembled a cold-frame hoop house at her home in Seattle. The temporary structure stands just a few feet high, yet provides a similar environment to the hoop house on campus.
Efforts like these might seem small, but they represent how the spirit of Earth Day, a time to demonstrate support for environmental protection and environmental justice, endures for the K community.
"I can't imagine a large-scale effort until I've seen it on a small scale," Rubinfeld said. "How can we expect large change until we see small changes? If my seven housemates and I can do this, imagine what could happen if everyone in our neighborhood could do that. We could be in a very different type of place. I think if everyone had access to the means to grow own own food, we would be much closer to individuals having sovereignty over what they put in their bodies and having access to just, local, and sustainable food for humans and the land."