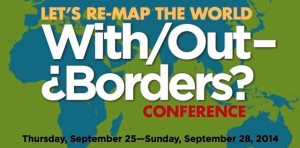 Kalamazoo College's Arcus Center for Social Justice Leadership is still accepting registrations to the "With/Out – ¿Borders? Conference" scheduled for September 25-28, 2014 at the College. Registration information and a conference schedule can be found at https://reason.kzoo.edu/csjl/withoutborders, or by contacting Lanna Lewis at slewis@kzoo.edu or 269-337-7398. More than 250 people have already registered toward a cap of 350.
"This will be a convergence of activists, scholars, and artists representing diverse issues, disciplines, generations, and locations," said Arcus Center Academic Director Lisa Brock. "They will examine and question the many borders—political, ideological, cultural, social, and beyond—that make up our world."
Key scholars, writers, and artists who will present or perform include civil rights icon Angela Davis, poet and National Book Award recipient Nikky Finney, South African Poet Laureate Willie Kgositsile, MacArthur Award recipient Guillermo Gómez-Peña, and filmmakers Gloria Rolando and Grace Lee.
Only conference registrants may attend conference events.
"With/Out – ¿Borders?" is billed as both a conference and 'un-conference,' according to Brock, "because in addition to formal presentations, there will be performances, films, and informal spaces where attendees may share learning, give impromptu demonstrations, begin public discussions, stage a performance, and more."
Plenary sessions, roundtable discussions, and workshops will cover a range of topics including current activism around power structures within cities and schools in the United States, identity formation at the U.S.-Mexico border, the Israeli-Palestinian conflict, LGBTQ refugees in Canada, the land conflict between Nigeria and Cameroon, and more. Presenters include activists and academics from across the U.S. and the world, as well from Kalamazoo, Detroit, and Chicago.
Conference co-sponsors include Kalamazoo College departments of Theatre Arts, Anthropology and Sociology, Music, Political Science, and Media Studies, along with Kalamazoo People's Food Coop, YWCA of Kalamazoo, Douglass Community Association, Hispanic American Council, Kalamazoo County Public Arts Commission, Western Michigan University Center for the Humanities, Boggs Center to Nurture Community Leadership in Detroit, and other organizations.
The mission of the Arcus Center for Social Justice Leadership is to support the pursuit of human rights and social justice by developing emerging leaders and sustaining existing leaders in the field of human rights and social justice, creating a pivotal role for liberal arts education in engendering a more just world.
Kalamazoo College (www.kzoo.edu), founded in Kalamazoo, Mich., in 1833, is a nationally recognized liberal arts and sciences college and the creator of the K-Plan that emphasizes rigorous scholarship, experiential learning, leadership development, and international and intercultural engagement. Kalamazoo College does more in four years so students can do more in a lifetime.