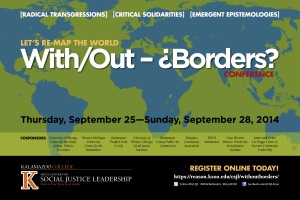 The complex issues surrounding the police shooting of unarmed black teenager Michael Brown in Ferguson, Mo., are sure to be discussed and analyzed for years to come. The Arcus Center for Social Justice Leadership at Kalamazoo College is making an early contribution to the discussion by convening leaders from many social justice fields—including some who have been on the ground at Ferguson and sites of other civil engagement—to explore policing, restorative justice, and resistance movements that are growing in American cities today.
Two major discussions are offered as part of the "With/Out – ¿Borders? Conference" hosted by the Arcus Center that will also explore other hot–button issues such as youth immigration and the Israeli/Palestinian conflict.
On Thursday, Sept. 25, from 9 a.m. to 3 p.m., a think tank titled "Policing, Racial Profiling, and Restorative Justice" will be held at the Douglass Community Association, 1200 W. Paterson St. in Kalamazoo. Discussion leaders include:
Frank Chapman, Chicago Alliance Against Racist & Political Repression
Kali Akuno, Malcolm X Grassroots Movement and Cooperation Jackson
Patrisse Cullors, Coalition to End Sheriff Violence in LA Jails
Ria Fay-Berquist, Leadership from the Inside Out
Mia Henry, Arcus Center for Social Justice Leadership
Ryan Lugalia-Hollon, co-executive director of Youth Safety and Violence Prevention, YMCA, Metro Chicago
On Saturday, Sept. 27, from 1:40 to 3:10 p.m., a plenary session titled "Cities in Revolt!" will look at a range of racial and urban concerns, including policing, racial vigilantism, privatization, and political and economic disenfranchisement. Participants include:
Kali Akuno, Malcolm X Grassroots Movement and Cooperation Jackson
shea howell, Detroit activist, professor, and chair of the Department of Communication and Journalism at Oakland University in Rochester, Mich.
David Stovall, education activist and associate professor of educational policy studies and African-American studies at the University of Illinois at Chicago
Rhonda Williams (moderator), founding director of the Social Justice Institute and associate professor of history in the College of Arts and Sciences at Case Western Reserve University in Cleveland, Ohio.
"Borders are being questioned and, in some cases, challenged, everywhere," said Lisa Brock, Ph.D., associate professor of history at Kalamazoo College and academic director of the Arcus Center. "Globalization and privatization are creating new borders between those who have access to education, food, clean water and those who do not.
"Do all citizens have equal right to participate without threat of a militaristic response?" she asks. "Scholars and grassroots activists working on these questions will address these and other issues facing cities today."
All activists, artists, students, researchers, and others are invited to attend the "With/Out – ¿Borders? Conference."
Preregistration is required to attend these events. Registration is on a sliding scale from $35 to $125 and registration closes Monday, Sept. 8. Space is limited, and interested persons are urged to register as soon as possible.
Accessibility and translation services can be made available upon request.
The mission of the Arcus Center for Social Justice Leadership is to support the pursuit of human rights and social justice by developing emerging leaders and sustaining existing leaders in the field of human rights and social justice, creating a pivotal role for liberal arts education in engendering a more just world.
Kalamazoo College (www.kzoo.edu), founded in Kalamazoo, Mich., in 1833, is a nationally recognized liberal arts and sciences college and the creator of the K-Plan that emphasizes rigorous scholarship, experiential learning, leadership development, and international and intercultural engagement. Kalamazoo College does more in four years so students can do more in a lifetime.