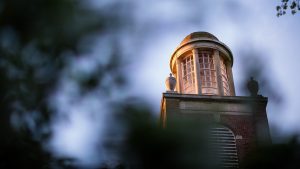 Starting on Wednesday, July 15, the Kalamazoo College Office of Admission will resume on-campus walking tours for prospective students and families. The Admission team is taking measures to keep valued guests safe during their visits to campus. Information sessions and counselor meetings will be available using virtual tools, and complete virtual visit experiences will continue to be offered.
In order to accommodate as many requests as possible, on-campus tours will be limited to 45 minutes, and visitors will be reminded of COVID-19 safety precautions. Per CDC guidelines and College social distancing efforts, precautions include:
PPE (face coverings, face masks) must be worn by staff and visitors at all times both inside and outside of campus buildings.
All visitors should maintain social distancing (6 feet of minimum distance from others not in visiting party). No close contact will be necessary during campus visits.
Visiting parties will be limited to four visitors or fewer, including the prospective student; attendees who do not wish to take the tour may wait in their vehicle.
Access to buildings, including the Office of Admission Welcome Center, will be limited. Restrooms will be available as needed, with one person able to enter the Welcome Center at a time.
Visitors may notice that the Kalamazoo College campus is quiet during the summer months; K does not offer summer coursework, so the lack of students at this time of year is perfectly normal. It's a great opportunity to take in the sights without distractions!
Guests may further explore visit options and sign up at the visiting Kalamazoo College page.
Visitors are advised to utilize the College's virtual tour options if:
They or any members of their visiting party have been in contact with someone who has tested positively for COVID-19.
They have traveled internationally two weeks before their visit.
They are experiencing any COVID-19 related symptoms.
For more information regarding visits, please contact the Kalamazoo College Office of Admission at 269.337.7166, toll-free 1.800.253.3602, admission@kzoo.edu.
Kalamazoo College is committed to compliance with the guidelines and restrictions set forth by the State of Michigan in the MI Safe Start Plan. To learn more about our efforts, please visit our COVID-19 Information and Resources page.