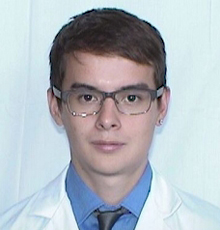 Philip Bystrom '13 is one of only 18 students to receive the Doris Duke International Clinical Research Fellowship, a very competitive and prestigious award usually given to medical students who have completed their third or fourth years. Phillip is in his third year at Western Michigan University Homer Stryker M.D. School of Medicine (WMed) in Kalamazoo. He will forego his studies there for the 12 months of his fellowship, which he will spend in Kampala, Uganda, conducting clinical research centered around early detection of cryptococcal meningitis in HIV-positive patients in resource-limited areas.
The fellowship well aligns with his intent to become an infectious diseases specialist who helps people in underdeveloped regions. Bystrom was born in Sweden and lived most of his youth in Bangkok, Thailand. He matriculated to K from Bangkok and earned his degree in chemistry with minors in physics and mathematics. His K experiential education included study abroad in Quito, Ecuador, shadowing a surgeon at the Pramangkut Military Hospital in Bangkok, serving as a chemistry lab teaching assistant at K, and working as a research assistant at University of Michigan. At medical school Bystom has been a trauma care unit volunteer and an ER scribe at Bronson Methodist Hospital. Bystrom recently left for Uganda and will return to Kalamazoo in July of 2017 to resume his third year of study at WMed.
Western Michigan University Homer Stryker M.D. School of Medicine is a collaborative effort between Western Michigan University, Borgess Hospital and Bronson hospital, all located in Kalamazoo.