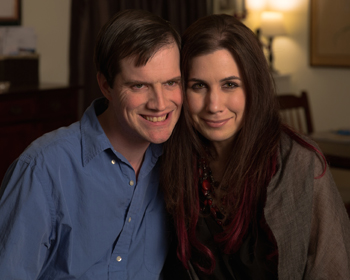 Kalamazoo College's Arcus Center for Social Justice Leadership (ACSJL) will partner with Media Arts Academy of Kalamazoo to host free community sneak previews and discussions of films to be aired on the award-winning weekly PBS series Independent Lens, beginning with "Autism in Love" on Wednesday, November 11, at 5:30 p.m. at the Center (205 Monroe Street).
Formerly known as Community Cinema, the national screening series was recently re-launched as Indie Lens Pop-Up, a title that better underscores the relationship between the project and its sponsor, Independent Lens. "Indie Lens Pop-Up creates a warm, welcoming and enjoyable space for people of all ages and backgrounds to come together and develop a deeper understanding of issues that face our community," said Mia Henry, executive director of ACSJL. "The powerful line up of films will focus on the history and context of issues in which struggle for social justice continues." Kalamazoo is one of 75 U.S. cities where the program will occur. During the past decade, screenings of Independent Lens films have brought more than 331,000 participants together at more than 5,700 events to discuss issues that affect local communities. Kalamazoo screenings will include dinner and will be followed by a discussion led by youth participants from the Media Arts Academy and event co-sponsors. Events are free; please RSVP to acsjl@kzoo.edu.
"Autism in Love" (by Matt Fuller) follows four adults at different places on the autism spectrum who open up their personal lives as they navigate dating and romantic relationships. The first-person portrayals show that love finds a way in spite of the challenges faced by persons with autism.
Three other films are planned for the 2015-16 academic year. "In Football We Trust" (by Tony Vainuku and Erika Cohn, Tuesday, January 26, 5:30 p.m. at the ACSJL, 205 Monroe Street) follows four Polynesian high school football players in Utah struggling to overcome gang violence, family pressures and poverty as they enter the high stakes world of college recruiting and the promise of pro sports.
"The Black Panthers: Vanguard of the Revolution" (by Stanley Nelson, Thursday, February 11, 2016, 5:30 p.m., venue to be determined) tells the story (and suggests the emerging current-day relevance) of a group of people that helped lead the new revolutionary culture that emerged in the turbulent 1960s.
"Peace Officer" (by Scott Christopherson and Brad Barber, Tuesday, April 26, 2016, 5:30 p.m., venue to be determined) explores the increasingly tense relationship between law enforcement and the public through the eyes of someone who's been on both sides–a former sheriff who established Utah's first SWAT team, a unit that 30 years later killed his son-in-law in a controversial standoff.