As African Americans and Afro-Caribbean immigrants poured into northern U.S. cities during the early 20th century, religious movements arose that offered them new identities as descendants of the Arab culture of North Africa, members of the "Lost Tribe" of Israel or simply humans free of racial labels.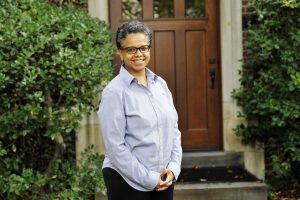 "While such groups frequently have been dismissed as cults and fringe elements, they gave people, then referred to as 'negroes,' a claim to something more exalted than a socioeconomic status tinged with the memory of slavery," Judith Weisenfeld writes in "New World A-Coming: Black Religion and Racial Identity During the Great Migration."
Weisenfeld, the Agate Brown and George L. Collord Professor of Religion at Princeton University, will speak about her research as she delivers this year's Kalamazoo College Armstrong Lecture at 7 p.m. Monday in the Olmsted Room at Mandelle Hall.
Titled "Apostles of Race: Religion and Black Racial Identity in the Great Migration," her talk will explore the intersection of religion and racial identity among the migrants from the South and immigrants from the Caribbean who encountered one another in cities such as New York, Chicago and Detroit. She will focus in particular on the Moorish Science Temple, Father Divine's Peace Mission movement, congregations of Ethiopian Jews and the Nation of Islam — all part of a quest among the urbanizing population for what Weisenfeld calls "new religious frameworks for understanding the black past and future."
"New World A-Coming" was awarded the 2017 Albert J. Raboteau Book Prize for the Best Book in Africana Religions. Weisenfeld also authored "Hollywood Be Thy Name: African American Religion in American Film, 1929–1949,"  "African-American Women and Christian Activism: New York's Black YWCA, 1905–1945," and "This Far by Faith: Readings in African-American Women's Religious Biography." She received her bachelor's degree from Barnard College and her master's and Ph.D. from Princeton.
The Armstrong Lectures, hosted by the College's Religion Department, are made possible by the Homer J. Armstrong Endowment in Religion, established in 1969 in honor of the Rev. Homer J. Armstrong, a longtime trustee of Kalamazoo College.