Three from a Kalamazoo College contingent of 15 who attended were recently honored with awards at the 51st annual Kennedy Center American College Theatre Festival regional event in Madison, Wisconsin.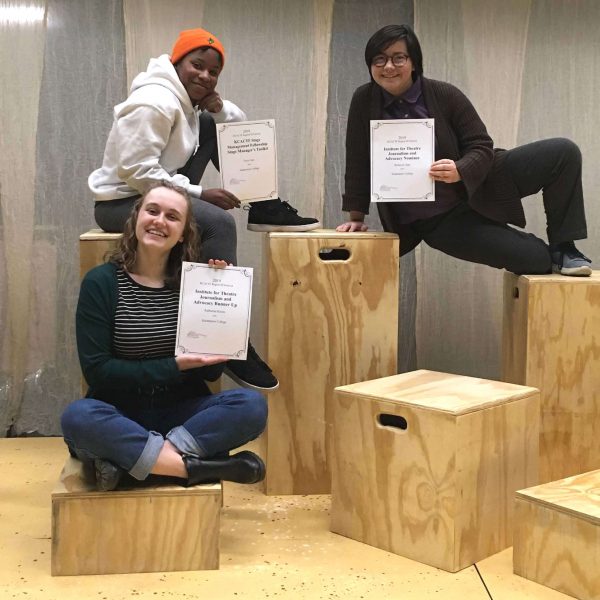 During the festival, theater students from across Illinois, Indiana, Michigan, Ohio and Wisconsin presented their work to industry professionals, participated in workshops, attended performances and competed for awards and scholarships. The three students who collected specific awards were:
Kate Kreiss '19 and Rebecca Chan '22 who competed in the Institute for Theatre Journalism Advocacy (ITJA) events; and
Teyia Artis '21, who competed in the Stage Management Fellowship category.
The ITJA events allowed Kreiss and Chan to participate in a series of seminars focusing on theater criticism and how it's changing with technology. Both wrote deadline-oriented critiques and responses about shows they watched each night, targeting a general audience of event attendees with their work.
Kreiss earned runner-up honors from event faculty.
"It was a hugely beneficial experience that truly married journalism with activism and encouraged us to use our critiques to advocate for what we as writers and artists felt needed to be put on stage," Kreiss said, adding she advocates for thoughtfully-done stories that reflect modern life.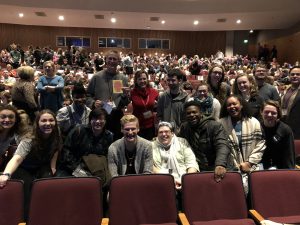 "As a senior, receiving an honorable mention from ITJA and participating in the course has shown me a way to marry my theatre arts and English majors, and has offered me with a career path that I hadn't considered," Kreiss said.
Chan was given top honors as the ITJA nominee from Region III. In other words, she is eligible to become one of four students selected for the national American College Theatre Festival this year in Washington, D.C.
"It was a lot of work, and a lot of late nights, but the experience was wonderful," Chan said. "Attending the workshop helped me discover a new skill, theater criticism, and it's now something I really enjoy. Without the support and encouragement of the Theatre Arts Department, I probably wouldn't have ever seen myself as a potential theater critic. Now, I'm excited to keep practicing this craft, and hopefully, I'll move on to nationals."
Artis was initially awarded a certificate of merit from the American College Theatre Festival for her work with "It Can't Happen Here," the Festival Playhouse production in fall 2018. That honor allowed Artis to submit a prompt book from the show to the Region III event in Madison, where student stage managers received feedback from professionals. Her honor from those professionals provides her with a Stage Management Fellowship certificate and a book consisting of tools for stage-management success.
"It means a lot to me because it shows that the judges took time to look through my prompt book and saw what needed improvement," Artis said. "I truly appreciate the textbook as it will guide me to my future career as a stage manager."
According to its website, The Kennedy Center American College Theatre Festival "showcases the finest in university theater across the nation. Through eight regional festivals plus the national festival in Washington, D.C., the festival celebrates artistic excellence and offers students individual recognition through awards and scholarships in playwriting, acting, dramatic criticism, theatre management, directing and design."
The festival aims to:
Celebrate the finest and most diverse work produced in college and university theater programs;
Encourage the production of new plays, especially those written by students and experimental works alongside revitalized or newly conceived classics;
Help participants develop their theater skills and achieve professionalism; and
Improve the quality of college and university theater in the U.S.
Learn more about the Region III Festival at its website.
Learn more about Theatre Arts at Kalamazoo College at our website.