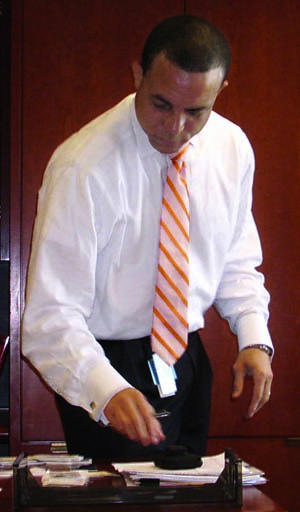 Michigan Governor Rick Snyder has chosen Harvey Hollins III '87 to coordinate the state's response to the Flint water crisis. Hollins directs the Office of Urban and Metropolitan Initiatives, which was formed in 2012.
The problem with the city of Flint's water supply began when the city switched water sources to the Flint River in April 2014. The city was under state emergency management when that switch was made. After the switch complaints soon arose about the smell and taste of the water. The city and the Michigan Department of Environmental Quality initially insisted the water was safe, but by September 2014, doctors had already detected a spike in the amount of lead seen in blood samples drawn from Flint children. Tests showed that water leaving Flint's treatment plant was lead-free but picking up lead from aging pipes in the system. The city's previous water supplier had corrected that problem by adding corrosion control chemicals, but the City of Flint wasn't adding them.
The appointment of Hollins resulted from a task force recommendation that a single person lead the follow-up to the water crisis. Follow-up responses will come from several state departments, and Hollins will coordinate those and keep the task force up to date on progress. Responses include additional water and blood tests, expedited improvements to the city's water system, increased education about lead and transparent reporting on goals, timelines and assignments. At K Hollins earned his bachelor's degree in health sciences. He played basketball and football and in his senior year earned the Catherine A. Smith Award for Human Rights. He earned his master's degree at the University of Michigan's Gerald R. Ford School of Public Policy. He spent several years working as a fiscal analysts for the Michigan House of Representatives and then eight years as the Michigan government affairs representative for the AARP. In 2004 he was appointed vice president for government and community affairs at Wayne State University. He served in that post until Snyder tapped him to serve as director of urban initiatives.