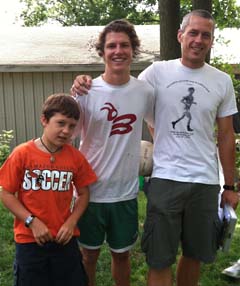 Autumn's active in the Center for Career and Professional Development (CCPD). The Recruiting Expo and the Professional Development Institute are hard-to-miss fall events. And you often find CCPD staff speaking in upper-level classes and first-year seminars. Every day CCPD staff members help students with career counseling, with assessment tools, and with application materials. And fall's the time CCPD reaches out to alumni and parents to invite their partnership in providing summer career development opportunities for students.
Alumni and parents, let us know if you will host a summer student, either through the Discovery Externship Program or as a K Intern in the Field Experience Program.
Externships: Short Homestay and Job Shadow
Past externship hosts, who have housed students and hosted them in their workplace for up to four weeks in the summer, become enthusiastic advocates for the program.
"John and Tyler were wonderful externs! Not only did we enjoy them tremendously, but we received such positive feedback from our colleagues who graciously spent time with them. The days were long and hectic, but our dinners were relaxed and full of conversations about their days, their impressions, the state of medicine, and more." – Sherri Seifert '83
"It is always great to connect with a current K student and to spend time sharing my home and work life. As I have become more professionalized in my career, I find I can more comfortably provide advice and insight into working in the arts." – Bethany Whitehead '98
"Discovery Externship is a special program that I highly endorse. I wish all college students could have such an experience. The students come well prepared and ready to try out new things. And we seem to benefit just as much as they do." – Anne Dayanandan '75
Other comments:
"I found it a lot of fun. I enjoyed showing our student what practicing medicine is like. It helped me reflect on what I was like at 19 trying to make similar career decisions."
"Hosting a K student was a lovely experience. It was fun to get to share my experiences at and beyond K with her. When I was at K, wondering what I might do next, I had no idea what graduate school was all about. I enjoyed being able to offer a K student a glimpse of that next step and to provide some guidance about how to get there."
"I enjoyed the opportunity to talk with the extern about my own scattered career path. I reassure students that career paths do not need to be defined at graduation and do not need to be linear. I wish I had someone to talk to about such concerns when I was a student."
"It's great to see the level of intellectual curiosity that I remember as a hallmark of my time at K is still alive and well in the current student body. My extern made me feel as if the DNA of the college was still much the same–the students are there because they are truly engaged and committed to learning. That was nice to see."
Internships: Summer Workplace Immersion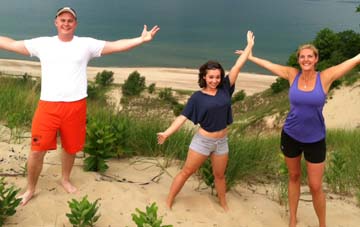 Alumni and parents who select and supervise student interns for at least six weeks through the Field Experience Program are similarly effusive. They cite many benefits of involvement, including:
– Engagement with talented, idealistic, dedicated students;
– Enhancement of the projects to which interns are assigned;
– The real and valuable work undertaken by the students;
– The learning that goes both ways;
– The opportunity to see future leaders learn and grow by doing.
The program's structure–a sliding-scale stipend, a learning contract, regular contact with the CCPD through reflective assignments, final evaluations, and official transcript notation–ensures that learning goals and mutual expectations are established and met.
The CCPD is currently fielding inquiries and confirming participation for both extern and intern hosts for summer 2014. Alumni and parents may indicate their interest in either program online, and a CCPD staff member will respond by mid-November. As fall turns to winter, our students will head off for winter break, and the CCPD's summer line-up will be complete.