Concentration
---
---
Why Take Jewish Studies at K?
From political science to religion, classics to modern Hebrew, history to contemporary issues, Jewish Studies at K takes an interdisciplinary approach to learning about Judaism and the Jewish people.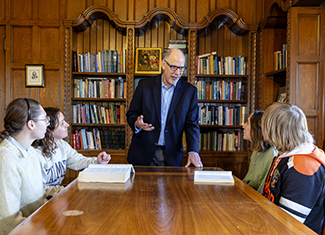 As a Jewish studies student, you will immerse yourself in the history, religion and culture of the Jewish people from their ancient origins through the present. You will learn about the Jewish experience across time and region by critically examining sacred, historical and contemporary texts. In intimate, small classes, you will further explore themes like the relationship between Judaism and being Jewish; how the faith has changed and been changed by the society it is practiced within; and the political status and power of the Jewish people in majority/minority relations.
As an interdisciplinary field, you will gain this knowledge through select courses in Hebrew, religion, history, classics and political science, such as Beginning Hebrew; Introduction to Jewish Traditions; Constructing and Reconstructing Israel; Sex and the Bible; and The American Jewish Experience. Outside of the classroom, you will have the opportunity to directly apply your studies in service learning and social justice projects, as well as study abroad in Be'er Sheva, Israel.
The critical thinking, communication, and cultural awareness skills you will gain as a Jewish studies concentrator will make you a morally aware and socially engaged citizen prepared for a variety of careers. Notably, alumni have had successful careers as religious leaders, community organizers, legal scholars, and civil rights advocates.
What can you do with a Jewish Studies Concentration?
Below are some of the careers, employers, and graduate schools of our Jewish studies alumni.
Careers
Lawyer
Assistant Community Director
Employers
Anti-Defamation League
Capital Area District Libraries
Graduate Schools
Michigan State University
University of Arkansas
Program Spotlights
Connect Jewish studies with your other academic interests
You do not have to be Jewish to take Jewish studies; in fact, many of our students come to the concentration because of its holistic approach to learning about complex issues, such as ethics, migration, majority and minority relations, and religion. By viewing these broad topics through the specific lens of the Jewish experience, our students are better able to grasp complicated ideas and have reported having a more enriching learning experience in their other academic interests.
Study Abroad in Be'er Sheva, Israel
While you can choose from any of the College's 50+ study abroad programs—many of which will allow you to further your Jewish studies concentration—our students have the added option to study abroad in Be'er Sheva, Israel. During your two terms abroad, you will have the opportunity to take Hebrew language and culture courses that go beyond what K offers, take additional classes of your choice at Ben-Gurion University, travel across the country, and have the opportunity to participate in an archaeological dig.
Jewish Studies creates a close-knit learning community
As a Jewish Studies concentrator, you will be joining a close community of students who learn and grow alongside one another. One of the benefits of taking Jewish studies at a small liberal arts college is that you will get to advance through your Hebrew sequences with the same students, allowing you to connect on a deeper level with your classmates and professors. Outside of the classroom, the program arranges regular faculty-student events to get to know one another, such as group dinners and cultural movie, cooking, and game nights.
Meet the Current Departmental Student Advisor
What is the best thing about being part of this program?
How Jewish Studies overlaps with many different disciplines.
What is your biggest piece of advice to first-years and sophomores about getting connected to this department?
Don't feel like you have to be Jewish or know anything about Judaism to take Jewish Studies. Lots of non-Jews take Jewish Studies classes and get a lot out of them. Also, all the classes are very accessible so you definitely do not need any prior knowledge.
What experiential education opportunities have you participated in?
I have been very involved in student organizations here at K, as I am the President of Model U.N., the Opinion Editor of our newspaper The Index, and the Vice President of Education for Hillel, our Jewish students' organization. Additionally, I have interned with the Michigan House Democrats, the City of Kalamazoo, and State Representative Julie Rogers while I have been at K.
What is your Senior Integrated Project (SIP)?
As of now, my SIP is about the role of antisemitism in forming political identities in American and British politics.
What are your career aspirations/next steps after K?
I am hoping to make a career in law and politics, so I am planning on going to law school after I graduate from K.
Jewish Studies News