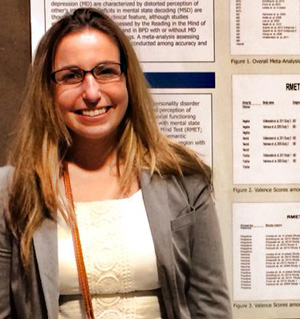 Mara Richman '15 has built an impressive scientific résumé in three short undergraduate years–and she has yet to reach her Senior Individualized Project (SIP) term!
During her study abroad in Budapest, Hungary the psychology major collaborated with Dr. Zsolt Unoka on research in depression and borderline personality disorder. She presented that work, titled "Mental state decoding deficit in major depression and borderline personality disorder: a meta-analysis," at the North America Society for the Study of Personality Disorders. Think the age of David (when he confronted Goliath) or of Joan of Arc … Mara was the youngest presenter at NASSPD! And she will be one of the youngest oral presenters at the prestigious International Congress on Borderline Personality Disorder and Allied Disorders (Rome, Italy), where her paper was accepted and where she will detail the meta-analysis she completed with Unoka. Their research also has been submitted in manuscript form to Clinical Psychology Review.
To date, Mara has six manuscripts published or in review for publication on research into schizophrenia, drug courts, and borderline personality disorder. She has presented research (or had research accepted for presentation) at Stanford University, the Association for Psychological Science, the Midwestern Psychological Association, the Mid America Undergraduate Research Conference, and the Michigan Undergraduate Psychology Conference. And she will present her work at the American Psychological Association in August. Most of this BEFORE she begins in earnest her SIP work. That will happen this summer at Harvard University Medical School's Department of Psychiatry under mentor ship of one of the world's foremost experts on borderline personality disorder, Dr. Mary Zanarini.
Given her youth and her accomplishments so far, it may not be too surprising that Mara will graduate after her senior fall term. She hopes to work in a lab for nine months or so and then apply to graduate school. She plans to earn a Ph.D. in clinical psychology and focus her research on borderline personality disorder.