Every year Kalamazoo College athletes and coaches present a Community Reflection session titled "Why We Play" where they share with the entire campus stories of what motivates them to compete, and the lessons and rewards of NCAA Division III athletics.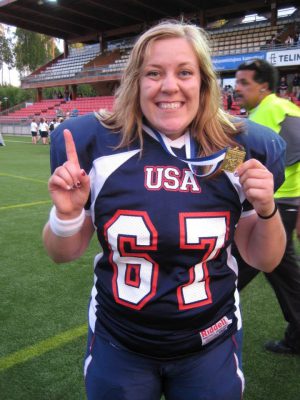 Inevitably, a few seniors also express regret that their sporting careers are about to end. In 2007, Liz Okey was one of them. A Hornets volleyball player who served as team captain, Okey was moving on to graduate school and a career in Chicago.
"When I graduated … I thought my athletic career was over," she told the audience in Stetson Chapel as she returned to K share her story at this year's "Why We Play" reflection in late January.
Instead, she began a completely new adventure, discovering women's tackle football, and in 2009, becoming a lineman for the Chicago Force, part of the Women's Football Alliance.
"I tried out for the Force and traded my knee pads for shoulder pads," she said.
Women's tackle football is just like the men's game, she said, except the ball is slightly smaller — and there's no pay. She loved the game, and kept on playing until her fourth year. In the home opener of that season, which would see the Force contend for a national championship, she suffered a devastating injury.
Recovering from surgery for a fractured fibula required extensive physical therapy, she said, and after the Force lost a "nail-biter" championship game, she thought about retiring from football.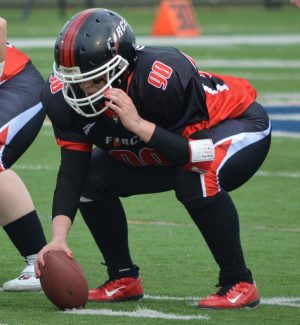 "My body had been through it all, and I had spent eight months a year for the last four years living and breathing football," she said. "After a lot of soul searching, I returned to the questions that brought us all here today: Why do I play? And I realized I was not ready to hang up my cleats. I had more to give."
She recalled an annual volleyball drill at K that, as she put it, was "designed to cause players stress" by forcing them to compete against a numerically superior squad while repeatedly changing up their offense.
"Essentially, these players had to achieve the near-impossible, and yet the rule was they couldn't quit. Every year we knew we were going to be pushed to the edge, and we only had one choice: to dig deeper and overcome," she said. "I knew following that injury that I had more inside of me. I had more to give to my teammates, to my coaches, to the city that I represented and to the sport of football. I was not done yet."
Nine months after her surgery, she won the competition to become the starting center on the U.S. Women's National Team. The team went on to win the world championship that July in Finland, where the Americans crushed opponents from Sweden, Germany and Canada.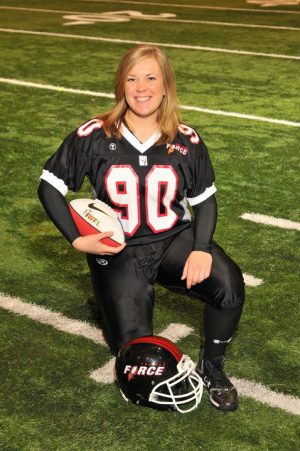 After that, Okey returned to the Force, which won a national championship the next month. When the team failed to repeat in 2014, she retired. She still proudly wears her championship rings and serves on the executive committee of the board of USA Football, the official youth football development partner of the NFL.
"There's a magical thing about sports," she said. "It teaches you things about life. How to withstand, react and rebound from life's greatest adversities."
She said returning to speak at K had been a dream of hers, and she urged current Hornets to pursue their own dreams with similar dedication.
"Future Hornets, this amazing campus and community has not seen your talents yet. Prepare to give it your all. Current students, your adult life is about to take off. Give the world everything you've got," she said. "Faculty and coaches, you're shaping the leaders of tomorrow. Protect them, push them and give them all the tools they need to succeed. Each of us will be tested on a regular basis. And under the layers of doubt and fear we each have more to give. So do one more rep, run that extra mile, volunteer one more hour and give it one more shot. You never know where that extra effort will take you."