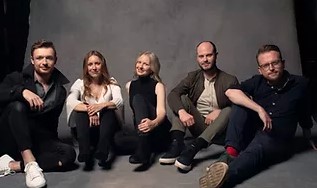 Three upcoming concerts in the Dalton Theatre at K will invite audiences to explore Paris, time and love.
First, the Academy Street Winds will present "French Ties" at 8 p.m. this Friday. This free concert invites audience members to enjoy an evening of exquisite music from the French tradition, directed by Music Professor Tom Evans.  
Songs will evoke the experience of visiting a café in Paris and strolling through various parts of the city, including Latin Quarter Saint-Germain-des-Prés, art and music center Pigalle, Père Lachaise cemetery and old market place Les Halles, complete with bells which are heard throughout Paris. The concert will close with Cirque du Soleil, arranged by Victor Lopez.
At 8 p.m. Saturday, Evans and the Kalamazoo College Jazz Band will take audiences on a "Time Warp" through the stages of jazz, from New Orleans, swing, Latin, hard bop and more. Audience dancing is encouraged at this free concert.
Finally, experience "Love Is (Volume 5)" with the Kalamazoo College Singers, Kalamazoo Male Chorus and Bach Festival Chorus, joined by special guests Apollo 5, an international award-winning British vocal ensemble. This eclectic tribute to love will be at 7:30 p.m. Tuesday, Feb. 22.
"Love Is (Volume 5)" will be in person and livestreamed on YouTube. Tickets for this event range from $5-$29 and can be purchased at kalamazoobachfestival.org.
Audience members are required to wear a mask over the nose and mouth and show proof of vaccination for all music department events. 
For more information, contact the music department at 269.337.7070 or susan.lawrence@kzoo.edu.