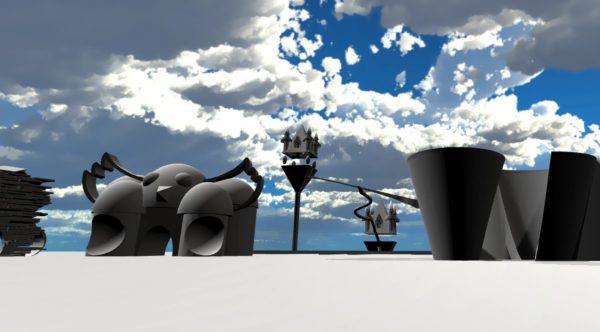 Exclamations such as "Wow!" and "Cool!" were emanating from Light Fine Arts last week. That's because students were witnessing the dazzling results of a partnership between the Art Department and the College's Center for New Media Design (CNMD): a virtual reality demonstration depicting projects from Nayda Collazo-Llorens' digital art course.
The 14 students in the course were transported into a world filled with structures developed from their imaginations including domed mazes, star-shaped-shadow-casting trellises and cleverly arranged hexagonal pillars, allowing them to climb, observe and interact with everyone's creations.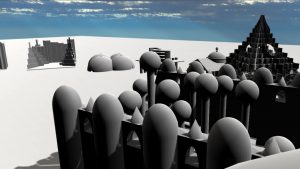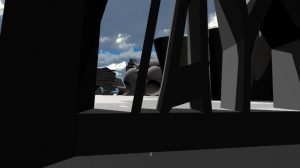 Their project, which Collazo-Llorens titled Architectural Aura, required students to design complex, three-dimensional structures capturing fantastical facades rather than traditional buildings. Students considered their structures from multiple viewpoints, including the interiors, and added perspectives based on volume and mass, proportions and balance.
Students then used computer-aided design tools such as TinkerCAD — an app for 3D design, electronics and coding — to develop them, and turn them into tangible models through three MakerBot 3D printers including one in the CNMD. Educational Technology Specialist Josh Moon and Peer Design Consultant Faith Barnett '21 later spent about two weeks transforming the 3D models into virtual reality.
The experience was a hit for the class's students including Gaby Cordova, an English major from Los Angeles, and Maren Prophit, a biology and art double major from Grosse Pointe, Michigan, who were impressed to see how small objects could be enlarged into a world where students could interact with them.
The project was especially practical for Prophit, who interned last summer with Mackinac State Historic Park, a family of living history museums and nature parks in northern Michigan's Straits of Mackinac. There, she saw sketch art re-created and exhibits designed with help from virtual reality, reflecting her own need to learn digital processes.
Barnett also received hands-on work in developing virtual reality for a public presentation for the first time.
"There was a lot of fine tuning to solve some minor issues because some of the graphics were jittery," Barnett said. "But the best part of VR is you can do things with it that are impossible in the real world."