"It was during spring break of this year that I understood what made Kalamazoo College truly unique."
So spoke newly-minted alumnus Vageesha Liyana-Gunawardana '15 during his Baccalaureate address this past June. "I was in Colorado visiting a friend whom I had met during my study abroad in Japan," he added. "Upon mentioning that I was from Kalamazoo College to my friend's housemates, they got quite excited. It happens to be, that two of them knew one of my housemates at Kalamazoo this year. They had met while on study abroad in London. Just then I realized that K students are everywhere!"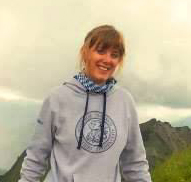 Picking up on that theme is classmate Mallory Zink '15, who wrote the following article on several members of the class of 2015 about to continue their international journeys.
Kalamazoo College is well known for being international, and a handful of recent graduates, me included, are continuing the tradition. My classmates are moving across the world, including Germany, France, and China. We are using fellowships, English teaching positions and grants. For most of us, this isn't our first study abroad experience, but for many of us, it is our first time moving somewhere completely alone. We will face the same struggles of finding the grocery store, figuring out how to work the washing machine, and making friends with local residents. But the skills we learned at K and our time on study abroad are going to help us navigate our future, wherever in the world we go.
Aaron Bunker '15 is moving to Wuxi, China, in the fall. He will be teaching pre-calculus and calculus at the Big Bridge Academy in the international department. He had not planned on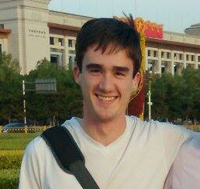 living abroad, but is happy to have the opportunity. He had originally planned on working with an at-risk tutoring program in Boston, but questioned its long term financial feasibility. Aaron also wasn't sure he was ready for a 'real' job, or, alternatively, ready for grad school, so China seemed like the best option. Aaron knows little about his new home, just enough to say hello and count to one hundred in Chinese. However, "I'm excited to be immersed in a place about which I know so little, and I'm excited about living completely by myself for the first time," he said.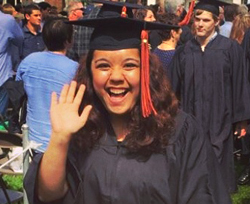 Natalie Cherne '15 is going back to back to Germany in the fall. She received a Fulbright to teach English for ten months at the Peter-Vischer Schule in Nuremberg, a short 10-minute train ride from where she studied as a junior at K. A Fulbright was Natalie's post-graduation goal; she knew she wanted to go back after falling in love with Germany her junior year. "I am lucky enough to be going back to a support network," said Natalie.
Unlike the majority of her classmates, Lyla Rothschild '15did not study abroad, so she is excited to go to Europe for the first time! As a junior she had been accepted into the Clermont-Ferrand program, but had to take a year off due to a medical leave. She has been studying French since high school and will be teaching English to French students through a program called "Teach Abroad Program in France" (TAPIF). Lyla said she is anxious about the language barrier, because, "as much as you study a language, nothing compares to living in that country." She is excited to have found this opportunity for a gap year before grad school.
Kelsey Donk '15had two choices for her return to France. She was offered a job Langue et Nature au Chateau de la Mazure, a language center where she had completed an internship. And, for a time, she planned to work there and apply for French citizenship. Instead she chose the city of Laval for her post-graduation destination. There she will teach English in the French public schools through TAPIF. The job with TAPIF will allow her to work in schools where, she feels, her presence, is most needed. She plans on doing a lot of writing next year, getting to know Laval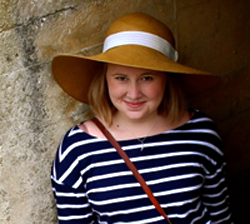 and exploring the north of France. "I'm so excited to get to know my primary school students," Kelsey said. "I'll be working in three primary schools and I think I'll love my kids."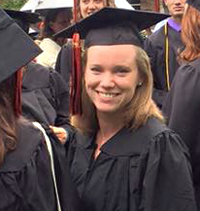 Hannah Olsen '15 studied abroad in Strasbourg, France for three months and is moving back to study at the University of Strasbourg. She received the Jean and Marie-Louise Dufrenoy Grant through la Société de Professeurs Français et Francophone d'Amérique. She will mainly be taking classes in physics. The Dufrenoy Grant was her top post-graduation option; Hannah knew it was a unique opportunity that she couldn't pass up! She is especially excited for the opportunity to integrate her knowledge of science and the French language; she has never been able to use French in a physics context and is excited to try! She is a little intimidated by the current social and political environment in France, but "right now, the excitement outweighs my worries," she said.
Joseph Westerfield '15is moving to Bourgoin-Jallieu, France, in September. He will be an English teaching assistant through the TAPIF program for three different schools. He has never lived in France, but has always wanted to! This was his original plan for after school, the perfect gap year before graduate school, where he hopes to focus his work on performance studies. His biggest worry? That his work schedule (a mere15 hours a week) will make it difficult to get into a routine…especially after the four years of demanding routine at K! Nevertheless, he is excited to teach children and work on his goal of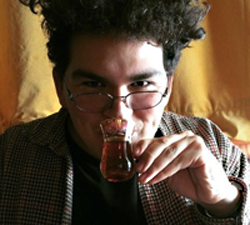 sustainable living, for both next year and the future.
Haley Cartwright '15is moving to Annecy, France. She, also, will serve as an English teaching assistant through the TAPIF program. Haley knew she wanted to do something outside of her intended career path and take a year off before she began pursuing her doctorate. Annecy will not her first time living in France; she lived there for two years when she was in middle school and was lucky enough to learn French through immersion both then and when she lived in Clermont during her junior year study abroad. Her goals for next year are to improve her French skills, meet international people, and learn some Spanish. Haley said, "I'm really committed to the experience, I know what to expect and am prepared to find a good balance between being a teaching assistant and having American and international friends."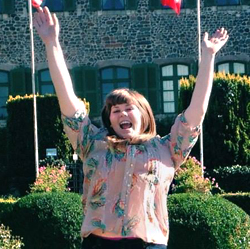 Alyssa Walker '15 is moving back to her study abroad site in Erlangen, Germany. She received a German Studies fellowship at Friedrich-Alexander University for a year, where she will study German, Spanish, and international studies. She hopes the classes she takes in Erlangen will help point her in a direction for further graduate study. Alyssa has some fun goals besides taking classes. She wants to meet new people, travel off the beaten path, and gain some work experience. She said, "I am not worried about anything next year. Kalamazoo College has prepared me for this, and I have the support of friends and family abroad."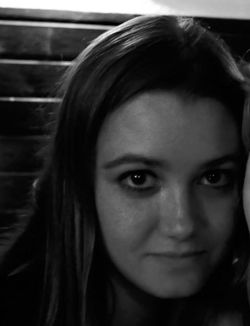 And Mallory Zink '15, the author, is moving to Bonn, Germany in October. "I had a few possibilities for after graduation, and going back to Germany was on the top. Funding that return through a fellowship, was really on the top, so I was very excited when I received one. I'll be working on my German abilities this upcoming academic year at the University of Bonn, and then I'll apply to grad school in Germany the following year (well, that is the plan currently). I'm nervous to be moving to a completely new city alone, but then again I am not too worried, I lived in Germany for a year during study abroad and know where to meet the Germans! First stop is the community kitchen in the apartment, second is the beer garden!"