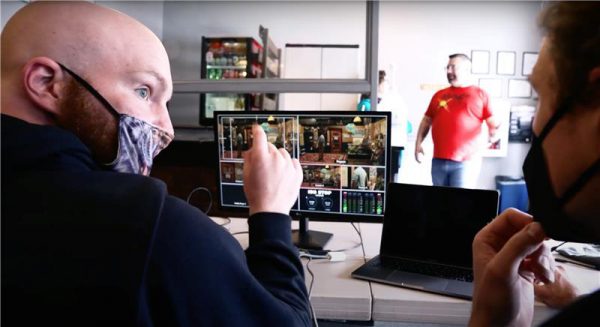 A Kalamazoo College alumnus has a plan to ensure all the world's a stage for the theatre industry now and in the future, despite the drama that COVID-19 has caused behind the scenes.
Cody Colvin '18 traveled the country in about 45 days this spring with the staff of his business, Colvin Theatrical, to film 11 of the 12 Outstanding Production nominees at this year's American Association of Community Theatre (AACT) Festival. His travels to cities from Lexington, Massachusetts, to Spokane, Washington, helped Colvin show the industry how recorded or streaming broadcasts of theatre events have the potential to widen audiences from the few sitting in theaters to thousands more regardless of their location.
"There's one element to the filming, which was protecting theaters during the pandemic and helping them get back some of the revenue they might have lost," Colvin said. "But what we're really excited about is the prospect of growing the industry. We've found that there are companies that are doing better with streaming than they were in person, and the reason for that is scale."
Scale is the opportunity to increase revenue at a faster rate than costs, which is one of the ideas Colvin studied as a business major at K.
"Scale in the theatre industry is basically impossible when you have a limited number of seats that you can sell," he added. "Theaters at every level, whether they be community colleges or Broadway companies, could only sell so many seats, and their costs continued to rise. Filming creates an interactive experience that allows companies to scale their audience and reach people all over the world."
Colvin's filming opportunities developed when he first helped K's Festival Playhouse rethink its plans for the 2020 productions of Kokoro and K. His streaming services gave a silver lining of optimism to what otherwise might've been a lost season and Colvin was grateful for the work experience.
That work was key for Colvin in attracting the attention of the AACT Festival, which affirms, supports and nurtures actors, directors and producers in community-theatre companies. The event, normally conducted every other year in person, needed to be virtual in 2021 because of the pandemic. That meant the Outstanding Festival Production nominees needed to be filmed with a presentational touch absent in the single-camera video submissions they initially provided festival judges. Colvin's services provided the solution.
"With our cameras, our broadcasting equipment and the way we shoot these productions, it's very interactive and theatrical," Colvin said. "You occasionally have moving shots, you have multiple cameras, and you have really good audio so you're able to get an experience that is a mix of theatre and film to take a story to the rest of the world. Video has a place in every level of theater and there's always going to be an expanded audience that any theater at any level can find."
Colvin and his team used Blackmagic Design products, including video-editing tools and digital film cameras, to produce film with a cinematic quality that drew rave reviews from the theatre companies. Colvin Theatrical is also partnering with Blackmagic Design to create a website, FilmingTheatre.com, that will launch in September. The interactive site will help teach theaters around the world how to film and broadcast their shows. There also will be a documentary film of their work on the site to show the production process.
"When you have the trust of all those people, you want to do it as well as you possibly can and they were very happy with us," he said. "When you're able to look back and say, 'Yes, we did that as well as we possibly could have and it was a success,' that's an amazing feeling. The reactions are just amazing."
Colvin admitted some might still prefer an in-person theatre experience to streaming even if they have to pay a premium for tickets. However, filming and streaming can only widen opportunities for audiences and theatre companies alike.
"Anything that you once knew as live, whether it be a few years ago or a couple decades ago, is finding a home on television," he said. "We think theatre's going to be no different. When I watch a Lions game, I actually prefer watching on TV because I see the best angles that way. I can hear commentary, I can see pretty much every angle of the game, and I can do it from the comfort of my own home. It's not a direct parallel, but I think it's where the theatre industry is headed."
Colvin often worked at the Festival Playhouse at K. That and his experiences as a business major are fueling what stands to be his success now and in the future with much of the credit going to faculty members such as Professor of Theatre Arts Lanny Potts, Edward and Virginia Van Dalson Professor of Economics Patrick Hultberg, L. Lee Stryker Associate Professor of Business Management Amy MacMillan and Associate Professor of Economics and Business Timothy Moffit.
"The College gave me an education that allows me to be an entrepreneur at 25," Colvin said. "I use what I learned in the business department and the theatre department every day. I use the negotiation skills I learned with Patrik Hultberg, accounting with Dr. Moffit, and marketing with Professor MacMillan. So much of how I think about business is structured based on how they taught me. I couldn't be more thankful for my time at K."