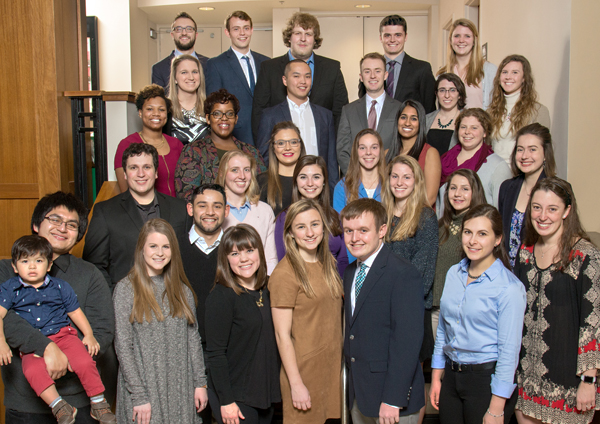 Thirty-five Kalamazoo College seniors (class of 2017) were honored with the institution's prestigious Senior Leadership Award. These remarkable individuals include teaching assistants, peer instruction leaders, resident assistants, team captains, all-conference and academic all-American selections, Dean's List honorees, student ambassadors for the president of Kalamazoo College, departmental student advisors, Center for Career and Professional Development career associates, and interfaith student leaders. One has even served as the mascot, Buzz the Hornet.
They lead or participate in groups that include, among others, Sisters in Science, Frelon Dance Troupe, College Singers, Young Men of Color, Black Student Organization, Coalition for Reproductive Justice, Hillel, Swim for Success, the Cauldron, Health Professions Society, and the Athletic Leadership Council. Some have distinguished themselves as Hornet athletes in golf, soccer, softball, baseball, tennis, basketball and swimming; as performers in theatre and music; and as persons committed to thinking, listening and acting in collaboration on behalf of civic engagement and social justice.
Above all, these 35 individuals are, as one nominator wrote, "exemplary human beings." Congratulations, seniors. Pictured are (l-r): front row–Moises Hernandez (holding his son Gael), Emily Levy, Marlon Gonzalez, Lauren Perlaki, Elizabeth Clevenger, Jacob Scott, Dana DeVito, Colleen Orwin; second row–Thaddeus Buttrey, Grace Smith, Kathleen Sorensen, Allie Brodsky, Suma Alzouhayli; third row–Allia Howard, Sarah Bragg, Kayla Dziadzio, Suzanne Miller, Sabrina Dass, Gabrielle Holme-Miller, Emily Kowey; fourth row–Melissa Erikson, Anh-Tu Vu, Riley Boyd, Ellie Goldman, Erin DuRoss; back row–Nate Donovan, Eric DeWitt, Douglas Robinett, David Smith, and Sidney Wall. Not pictured are Sarah Glass, Chenxi Lu, Leland Merrill, Branden Metzler, and Lindsay Worthington.
Photo by Anthony Dugal