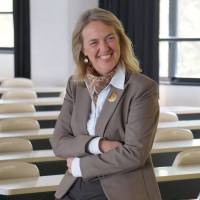 From The Japan Times, Jan. 11, 2015
An interesting scenario played out several weeks ago in the president's office at Kyorin University in Mitaka, Tokyo. Robin Sakamoto, the recently appointed dean of the Faculty of Foreign Studies, was sitting with the president and a few members of staff. Enter the secretary to serve tea.
"Of course she served the president first," Sakamoto recalls, "and then she turned to serve another man in the room. Yet she suddenly stopped dead in her tracks, returned to the tray for a different tea cup, and then served me second instead."
There can be a lot going on in Japan with one cup of tea. Despite being the second-highest in seniority in the room, Sakamoto is also a foreigner — an American — and a woman, so she understands fully the dilemma, undercurrents and significance of the secretary's quiet decision.
"Of course I wondered what was going on in her head, but just by being in my position now, I can see ripples like this that are starting to happen, assumptions that are being questioned. For a student to see me — for example, when someone announces, 'Now the dean will speak' — the young women in the audience can think, 'Yes, I can do that too someday.' "
With her appointment last April at Kyorin University — the second foreign woman ever to be awarded a deanship in Japan — Sakamoto hopes to help improve both attitudes towards and regulations regarding gender equality and work/life balance throughout Japan, starting at Kyorin. As a dean of faculty, her time, she says, is now devoted to "a lot of learning by doing, a lot of networking at embassies or with the companies that employ our alumnae, a lot of meetings in Japanese at a level I have never heard before."
Her favorite part of the day is when she teaches classes in intercultural communication.
"It is really important to keep a connection with the students," she says, "because if they weren't there, none of us would be there."
Despite all the challenges, Sakamoto admits to feeling "hopeful" — maybe that tea cup really does signify a sea change. She enthusiastically explains the story behind Kyorin's recently opened Women's Research Center, which aims to support female researchers and their families. Judging by the fact that the Ministry of Education, Culture, Science, Sport and Technology (MEXT) has approved the university's past five grant requests for new projects, the government seems to share Sakamoto's feeling that Kyorin is on the right track.
"MEXT has given us the opportunity to establish a place where researchers, male or female, can bring their children while they are working," Sakamoto explains. "If we can do this at the university level and then spread it out to other universities, this is how you can make change. Jan. 24th is the kick-off, so we are still in the early stages, but we are already canvassing the entire faculty: Do you have a newborn? Are you taking care of any elderly relatives? Do you need support as the man or as a working woman? We are really trying to look at this from the total perspective to make a difference in the researching community."
Sakamoto's story sounds like a shining example of feminine success in Japan, but it hasn't been without its dark patches. The brush with gender inequality that left the deepest impression came 20 years ago, when Sakamoto already had five years of teaching under her belt. Sakamoto was a few months pregnant with her first child when she went to her principal at a local high school in Iwate Prefecture to share the good news and discuss her employment options. Turns out, there were none.
"I told my principal in February that I was pregnant, but that I would like to continue working and he simply said, 'No. You'll have to choose.' "
At the time, Sakamoto accepted his reason that as a foreign hire she would not qualify for a maternity replacement. She dutifully quit a month later, but, she says, "I was really disappointed afterwards — at myself for not being more assertive, and at the system because women just have to accept this."
Sakamoto had envisioned a long career in teaching. Having majored in education at Kalamazoo College in Michigan, she had planned to teach in the U.S. after graduation. However, she says, "I had a less than spectacular student teaching experience and thought that if I taught a year or two overseas, that would give me confidence to return to a U.S. classroom setting.
"At that time, the U.S. was really looking to Japan for ideas to implement in education, and so I thought it would be a good match. I came on a special GLCA (Great Lakes College Association) program that was run through Earlham College and was a prelude to the JET Programme. It was based in Iwate due to a professor who had spent time there. I heard about it at my college career center since my college was also in the GLCA association.
"I had only planned on being here two years, but as I arrived in the end of July, that meant I would miss graduation. I had really gotten attached to my students by that second year and wanted to stay until March to see them graduate and was given special permission to do so. After that, I was asked if I wanted to teach at the municipal high school in nearby Morioka for another two-year contract. I jumped at the chance because by then I was really enjoying Japan. It was while I was teaching at the high school that I met my husband and we married."
Sakamoto admits it was that rude awakening in the principal's office when she was expecting her first child that fueled her drive to become a successful working mother in Japan. She switched to teaching part-time at the university level, and earned her master's in intercultural relations — and later a doctorate in comparative and international development education — by finding low-residency programs, which meant she could complete most of the coursework at home in Iwate. She taught her father-in-law to change diapers while her husband took over the family business.
Of course it was difficult, she says. "Originally we had decided my husband would take care of the business and I would take care of the children in our three-generation household; we were going to do a really Japanese-style family," Sakamoto says. "But as we both matured, it just didn't fit in with our lifestyle anymore. Luckily we've been able to adapt, so it works now for both of us. I tried to be home as much as possible when the children were young, and luckily my father-in-law would be there when I was at the university. But it really wasn't easy."
The hardest part came once two of Sakamoto's three children were in junior high school and, with her master's degree complete, she felt ready for a more full-time position. This type of position proved hard to come by in Iwate, however. Instead, Sakamoto eventually worked at four of the "Tokyo Six" universities on weekdays, only coming home on the weekends.
"I would get up Monday morning and cook breakfast, lunch and dinner, and then get on the shinkansen, go to Tokyo, work for the week, get back in time to pick up dinner at the station and get home in time for Friday night dinner."
Sakamoto believes "no one should have to live away from their family for work," yet it is an all-too-common practice in Japan, for both men and women.
Sakamoto's family encouraged her in other ways, moving for one year to Minnesota while she completed her Ph.D. coursework and supporting her when she traveled to Uganda in 2006 as part of a joint program developing training programs for head teachers run by the University of Minnesota, Naruto University of Education in Tokushima Prefecture and Kampala's Makerere University. She had earlier traveled to the Ukraine to help train young teachers.
It was during her time overseas that Sakamoto learned how powerful her influence could be. She recalls one example: "My kids were like, we don't know what our mom does, but she is in Africa. Yet, a few years later, my eldest did her study-abroad in France and then she went to Morocco. And my second did her study abroad in Madagascar. So I think to myself, of the three kids, two of them have gone to Africa, and I think a large part of that is because when they were kids, that's what mom did.
"Being a mother makes me a better educator," Sakamoto continues. "Even with my relative success, I know I only see a certain level of sexism in Japan since I am a foreigner and already treated differently. Yes, there are opportunities for equality to happen in Japan but is it really happening consistently?
"And yes, we are seeing more fathers at the park with their children, but why aren't we seeing more families? Parents are still trading off because the entire system in Japan does not support both partners working. If we are going to make this better we've got to do it together. We can't just make it better for women and ignore the men, because they don't like their lives either."
Looking toward Kyorin's 50th anniversary and the opening of its new Inokashira Campus in 2016, Sakamoto believes Japan can narrow the gender gap and achieve a better work/life balance for all.
"The president of our university's wife is a researcher, and she was our first speaker when we opened our Women's Research Center," Sakamoto explains. "When she talked about how she could be successful as a researcher, he was right there, supporting her. That's what you need — you really need the authentic buy-in. It's not just someone's picture in a pamphlet; I am not just a figurehead to these men — I am a colleague and they want to help me."