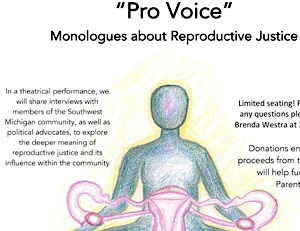 Kalamazoo College students are collaborating with Planned Parenthood of Southwest Michigan on a theatre performance that will raise awareness about reproductive health in Kalamazoo County. "Pro-Voice: Reproductive Justice Monologues," will stage on Sunday, February 26, at 5 p.m., and on Monday, February 27, at 7 p.m. Both performances will occur in the Connable Recital Hall of the Light Fine Arts Building on K's campus. The events are open to the public. For tickets, contact in person Brenda Westra (in the Department of Psychology office suite in Olds-Upton). Tickets are $10; all proceeds will go to Planned Parenthood.
Project collaborators include Planned Parenthood, Kalamazoo College's Mary Jane Underwood Stryker Center for Civic Engagement, Professor Karyn Boatwright's "Feminist Psychology of Women" class and Professor Alison Geist's "Contemporary Issues in Public Health" course.
The "Pro-Voice" monologues will be performed by K students, based on interviews students in the aforementioned classes conducted with local people whose stories illuminate the importance of Planned Parenthood's services to the community.  The performances, which were devised and directed by K senior Lindsay Worthington, also incorporate interviews of policymakers and service providers regarding maternal and child health in Kalamazoo County.
"The events will do more than raise awareness of reproductive health issues," said senior psychology major Ashley Schmidt. "It also will be an act of empowerment. We hope this performance highlights how important it is to raise the voices of those often ignored. We can make a difference when we work together."