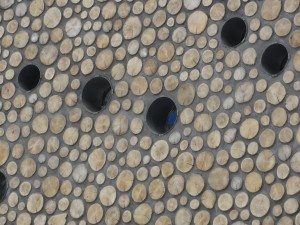 Wood is used in one way or another on just about every home or building, from frame to trim, from siding to roof, and to finely crafted accents. But chances are you've never seen a building with log "bricks" laid with their circular ends showing, not stacked lengthwise, as you'd see on a typical log home.
That's about to change.
Construction crews are busy at Kalamazoo College's newest building, the Arcus Center for Social Justice Leadership, applying a one-of-a-kind cordwood masonry skin to this one-of-a-kind 10,000-square-foot building on the corner of Academy and Monroe streets designed by Chicago-based architectural firm Studio Gang Architects.
The wood is northern white cedar, and comes from a commercial forest in Michigan's Upper Peninsula, says Av Mulder, foreman for Burggrabe B and B Masonry out of Belding, Mich.
Mulder and his masons receive logs that have been cured and cut to size by the building's construction management firm, Miller-Davis in Kalamazoo. They then form the logs in place with a special mortar that sets slowly to minimize shrinking and cracking.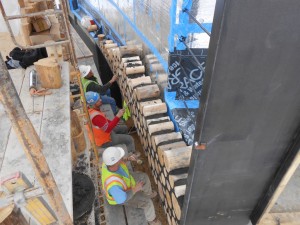 The end result is a seemingly random, yet intelligently designed, pattern that Mulder calls "a peak and valley effect." The construction technique has been employed on barns and sheds in Northern Michigan and Canada for generations. But it's believed to be the first time that a commercial building in the United States has been built with this type of facade.
Mulder stopped short of estimating how many individual "bricks" might be placed, but did say about 100 cords of wood would be used.
Masons attended a two-day workshop to learn how to apply the cordwood masonry. According to Mulder, a mason since 1971, neither he nor the other masons had ever worked with this technique before. He said his crew must always think about what size log to place next, in order to keep their placement fluid looking. Where the walls of the building bend and curve, masons have to customize the logs even further, making certain their angles correspond to the walls.
"This isn't like laying a line down and building a wall," Mulder says. "It's kind of like working with fieldstone, but you can trim fieldstone. This is all eyeball, always thinking, especially around the windows. It's like nothing I've ever worked on."
Work has been hampered by the harsh winter the region has endured, but Mulder forecasts that the log-laying could be complete by April.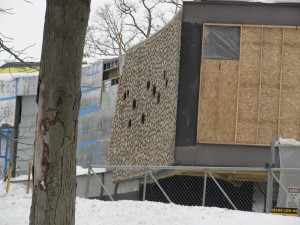 "Cordwood masonry is an old construction technique that has been updated for a modern building," says Paul Manstrom, Kalamazoo College associate vice president for Facilities Management. "The students, faculty, staff, and visitors who use the building will find that it's both inspired by and suited to learning and social justice."
According to Manstrom, the building is slated for a summertime completion and will be ready for classes in Sept. 2014. The Arcus Center for Social Justice Leadership will hold its With/Out Borders conference in the new structure in September.
The Arcus Center for Social Justice Leadership was created through an endowment from the Arcus Foundation. Construction of the Center's new building is funded through a gift from Jon Stryker, K alumnus (Class of 1982), trustee, and Arcus Foundation founder.