Make plans today to attend three music concerts this weekend featuring Kalamazoo College students.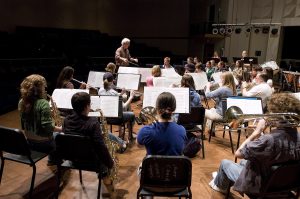 8 p.m. Friday, Nov. 10, at the Dalton Theatre: Directed by Thomas G. Evans, Kalamazoo College's Jazz Band pulls together an eclectic collection of contemporary and classic jazz arrangements to provide the students participating and the audience members an electric experience. Find recordings of past performances such as "Count Bubba," "The Chicken" and "The Last Dive" online.
7:30 p.m. Saturday, Nov. 11, in the Light Fine Arts Building lobby: The Kalamazoo College Singers and Chamber Choir, partnering with the Arcus Center for Social Justice Leadership, will present "Shattering Despair," a multimedia concert experience featuring spoken words, songs, stories and special guests. Directed by Christopher J. Ludwa, the College Singers feature a mixed soprano, alto, tenor and bass choir, performing a diverse array of music.
4 p.m. Sunday, Nov. 12, at the Dalton Theatre: The Kalamazoo Philharmonia will present "In Nature's Realm," a Mozart Sinfonia Concertante for violin and viola featuring Jun-Ching Lin and Andrew Koehler. The ensemble brings together students, faculty, amateurs and professional musicians of all ages to perform great music. The group's repertoire features dynamic, adventurous and thoughtfully-curated works.
For more information on any of these concerts, contact Susan Lawrence at 269-337-7070 or Susan.Lawrence@kzoo.edu.