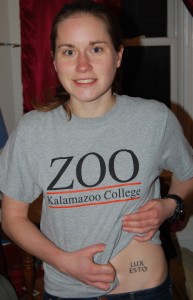 What would you do to remind yourself and others just how much you loved and appreciated your college experience—assuming you only have about $100 to spend?
You'll have to go a ways to top Jillian McLaughlin '10 who recently treated herself to a tattoo just below her left ribcage of "Lux Esto," K's Latin motto that means "Be Light."
"In the past few years, I have really come to appreciate the unique undergraduate experience I had at K and the friendships forged," said Jillian, a Grosse Pointe (Mich.) native now working for an anti-poverty think-tank in Boston.
"I suppose I could have bought a T-shirt or a mug but a tattoo of 'Lux Esto' seemed more epic. So that's what I did."
Jillian's K experience was a full one. She ran on the Hornet cross country team, wrote for The Index student newspaper, worked as a student sustainability coordinator in the College's Facilities Management Division, and conducted research into political ideology with K Professor of Psychology Gary Gregg. She also served as an intern in U.S. Senator Carl Levin's office in Washington, D.C.
During her senior year, the political science major earned a departmental award to travel to Spain and conduct interviews on international human rights law for her Senior Individualized Project, or SIP.
"It sounds corny, but no matter where I am, I feel like I'm at home when I'm around other K grads," Jillian said. "As I get ready to attend graduate school [in pursuit of an MBA on nonprofit management and impact investing], I wanted a reminder of that experience."
She said the tattoo idea was the brainchild of her K classmate and friend Anne Renaud '10.
"She joked about getting 'Lux Esto' tattoos before we graduated. It didn't happen but the seeds of my decision were planted."
Thanks for honoring your alma mater, Jillian. You'll be glad to know that your tattoo complies with the College's new branding guidelines for typefaces!