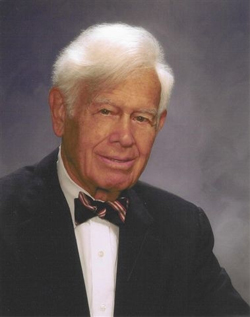 Pianist Frank Glazer will present a solo recital of works by Haydn, Beethoven, Barber, and Liszt on Wednesday, November 6, at 7:30 PM in the Dalton Theatre of the Light Fine Arts Building on Kalamazoo College's campus. General admission is $5 for adults and $3 for students. Kalamazoo College community members are free. The event is sponsored by the Kalamazoo College music department.
Glazer's artistry and longevity make him a singular figure in the music world. The 98-year-old musician was born in Chester, Wisconsin, in 1915. In 1932 he traveled to Europe to study with Artur Schnabel and with Arnold Schoenberg. He made his debut at Town Hall in New York City in 1936 with a program of Bach, Brahms, Schubert, and Chopin. He played this program again in 2006, to celebrate his seventieth anniversary of public performance.
In 1939 Glazer performed with the Boston Symphony Orchestra under Sergei Koussevitzky. During World War II he served in the US Army as an interpreter in Germany and France. In the early 1950s, Glazer had his own television show called "Playhouse 15" in Milwaukee. In 1965 he joined the Artist faculty of the Eastman School of Music. He left that position in 1980 to become artist-in-residence and lecturer in music at Bates College (Lewiston, Maine).
Frank Glazer's recital program on November 6 will include the Sonata in E minor (Hob. XVI/34) of Haydn, the Phantasie and Op. 109 Sonata of Beethoven, Excursions by Samuel Barber, and three pieces by Liszt, including his Rigoletto paraphrase.
For more information, contact Susan Lawrence (269 337 7070).