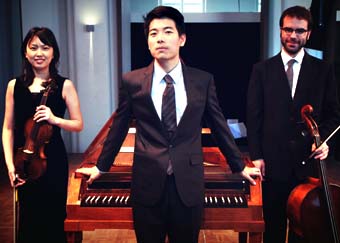 The Kreisler Trio will present a concert of works by Mozart, Beethoven, and Hummel–performed on period instruments–on Sunday evening, October 20, at 8 PM in Dalton Theatre of the Light Fine Arts Building on the Kalamazoo College campus. The event is sponsored by the Kalamazoo College Department of Music; admission is free.
The Kreisler Trio was founded in the Royal Conservatory of the Hague and brings together three musicians from around the world: Keyboardist Shin Hwang, a prize-winner of the 1st International Westfield Fortepiano Competition; Violinist Yuki Horiuchi, a graduate of the Tokyo National University of Fine Arts and Music and performer with the Amsterdam Baroque Orchestra; and cellist Fernando Santiago García, a graduate of the Koninkljk Conservatorium in The Hague and member of the European Union Youth Orchestra and the Gustav Mahler Academy in Bolzano.
For their concert at Kalamazoo College, the Trio has programmed sonatas by Mozart (for solo fortepiano and for violin and fortepiano), and trios by Beethoven and Hummel.