Gerald E. Rosen '73, who has served for 24 years as a U.S. District Court judge in Detroit (five years as chief judge), delivered the 29th annual I. Goodman Cohen Lecture in Trial Advocacy at Wayne State University Law School in Detroit on Feb. 4. Rosen's lecture, "Trial Practice as Viewed from the Perspective of the Trial Judge," took place in the Spencer M. Partrich Auditorium at the law school, 471 W. Palmer St. Read more about Judge Rosen and the lecture in this Flint & Genesee County Legal News article.
David Porada '02 is now project manager in the Detroit office of Tri-Merit LLC (www.tri-merit.net), a national leader in providing research and development tax-credit services to CPA firms and individual clients. He holds a law degree from University of Detroit Mercy School of Law. He previously served as an account executive at Robert Half Legal where he dealt directly with executives at corporations and partners at law firms to assess their needs and address complex issues. David also spent time as a research specialist with Thomson Reuters Westlaw. More at www.dailyherald.com/article/20140206/submitted/140209887.
Molly (Shelter) Parker, D.O. '05 has opened a family practice with a special interest in women's health at Three Meadows Medical Plaza in Hillsdale, Mich. The Ann Arbor native earned her doctor of osteopathy degree at Kirksville College of Osteopathic Medicine in Kirksville, Mo. She recently completed her residency in Coldwater, Mich. More at www.hillsdale.net/article/20140206/News/140209438#ixzz2seL2DncB.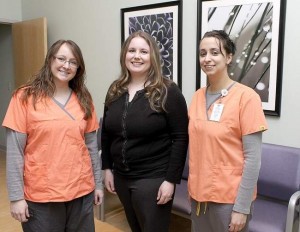 Megan Bauer '12 will receive the 2014 Henry D. Messer Youth Activist Award, one of the annual Catalyst Awards from Equality Michigan, for emerging as a powerful force in Michigan's LGBT equality movement. As Community Engagement Coordinator the Kalamazoo Gay and Lesbian Resource Center since late 2012, Megan has had an impact not only in the Kalamazoo area, but across Michigan. During her K days, she worked with Habitat for Humanity as an AmeriCorps volunteer and with Queers for Economic Justice in New York. Megan will receive her award at Equality Michigan's annual dinner February 22 at Motor City Casino to honor the individuals, groups or organizations leading the fight to secure equality for LGBT and HIV-positive persons in Michigan.
Sam Bertken '12 wrote an entry for the real estate blog Movoto titled "30 Things You Need To Know About Kalamazoo Before You Move There." It's fun and informative and yes, you need to know these things about Kalamazoo (and about K, which gets TWO entries in his blog post). At last count, Sam's entry had earned nearly 46,000 views.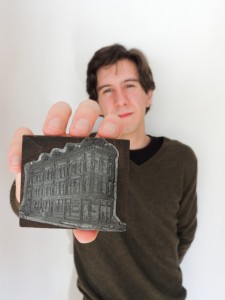 Keeney Swearer '13 is part of a group art show at the Kalamazoo Book Arts Center in the Park Trades Center, 326 W. Kalamazoo Ave, Suite 103A, Feb. 7-28. An opening reception takes place Friday Feb. 7 from 6-9 p.m. during the February Art Hop in downtown Kalamazoo. Read more about Keeney and see his artwork at www.keeneyswearer.com.
Eric Glanz '13 was the subject of a recent Detroit Jewish News article. Eric is taking post-graduate classes in biological sciences at Wayne State University in Detroit and preparing for the Medical College Admission Test. The West Bloomfield, Mich.-native was a four-year starter on the Hornet baseball team (catcher!) and co-captain during his junior and senior seasons. He was also a member of K's Athletic Leadership Council, hosted potential student-athletes, and tutored Kalamazoo area middle school students in math. He's now a Class Agent for the K Class of 2013.