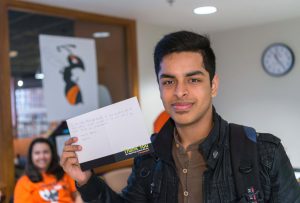 Students, faculty, staff and alumni will celebrate a day honoring Kalamazoo College's philanthropic donors from 10 a.m. to 6 p.m. Wednesday at the Hicks Student Center.
Sponsored by the Kalamazoo College Fund, Grateful for K Day – conducted twice a year – calls on students to honor the importance of philanthropy in sustaining and enhancing Kalamazoo College by writing personalized notes to thank donors for their support. Donations help about 98 percent of K students receive scholarships or some other form of financial aid.
All students are welcome to participate. Coffee and cookies will be served.
If you're a donor, please share your "Why I'm Grateful – Why I Give" stories on our website or Facebook page, where you can also learn more about Grateful for K Day.