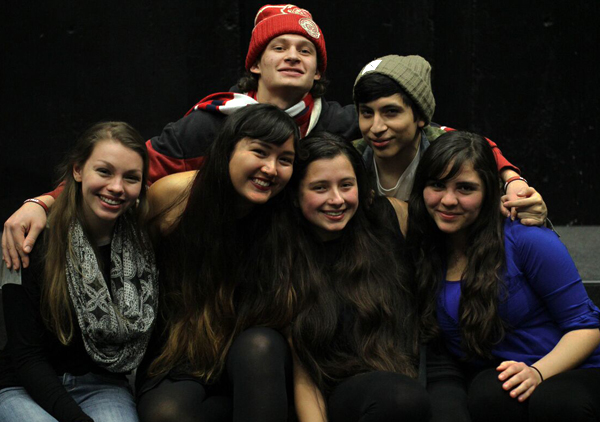 Playwright and director Belinda McCauley '16 presents her one-act play, Family Crimes, in the Dungeon Theatre on Thursday, February 11, through Sunday, February 14. The four performances are part of Kalamazoo College's Senior Performance Series.
The play centers on a family of three generations of Latina women who have made enormous sacrifices in their pasts, resulting in long held secrets. "Each must decide what she values and what family means to her as these secrets are revealed to the audience and each other," says McCauley.
Cast member Johanna Keller Flores '18 (Marta) stresses the role of race in the story: "The play is a depiction of a family battling its demons like any other, but recognizes the damage racism, machismo and prejudice can inflict on relationships and actions."
The result, according to actress Aliera Morasch '16 (Estela), is a complex and deeply layered story. "I am honored to be part of a production that recognizes my body and my family's story through developed, flawed, and multi-dimensional characters," says Morasch. "Family Crimes challenges me to think about identity, family dynamics, and family histories in a new and complex way. Its blend of secrets, race, abandonment, love, sexuality and morality makes for dynamic storytelling that is simultaneously haunting and uplifting."
Tickets are free for Kalamazoo College community members (students, faculty and staff) and five dollars for general admission. Thursday's show begins at 7:30 p.m.; curtain rises at 8 p.m for Friday and Saturday's performances and at 2 p.m. for Sunday's concluding production. Call 269.337.7333 for reservations. Tickets also may be purchased at the door one hour before performance. The Dungeon Theatre is located in the Light Fine Arts Building on Kalamazoo College's campus.