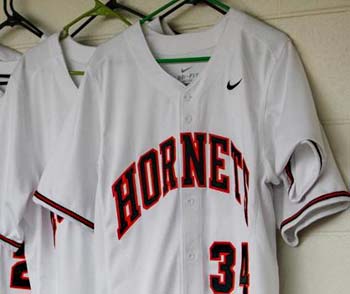 Next week (April 4-10) is national Division III Week, an opportunity to celebrate the impact of athletics and of student athletes on campus and in the surrounding community.
K will mark the celebration with several special events. Monday, April 4, is Donut Day. Support your favorite team and wear Kalamazoo College athletics gear to the Hicks Center between 11 a.m. and 2 p.m. to receive a Sweetwater's donut. Coaches will also be handing out athletics prizes for the first, 10th, 25th and 50th person to stop by the table.
On Local Restaurant Day (Wednesday, April 6) get special deals at the following local restaurants if you wear K athletic apparel. At Comensoli's Italian Bistro (762 West Main Street) that apparel will allow you to deduct half the cost of appetizers from 4 p.m. to 9 p.m. At Fazoli's (4615 West Main Street) you can get a free entree with the purchase of another and two drinks. Roma's (1401 South Drake Road) will give you free bread stick bites (until 7 p.m.) with the purchase of a large soda. Dine in and pick-up only; after all, they need to see that K athletic gear.
Friday is Faculty/Staff day, when former K athletes who are employees of the College will wear clothing that represents K and their sport. Hopefully we'll see all of them at the "Why We Play" community reflection in Stetson Chapel at 11 a.m. (April 8), when K athletes and alumni talk about the impact of athletics on their lives.
Let's go 'Zoo! If you don't have K athletics apparel, borrow from a friend! We want to see as many people on campus in orange and black on Monday and Wednesday.