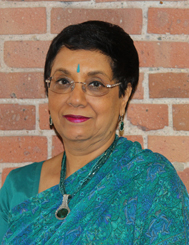 "Empowering girls with information and giving them a voice enables them to say 'no' to early marriage, 'no' to dropping out of school, and 'no' to an early pregnancy or unsafe sex that might cost them their future." So wrote Dr. Purnima Mane, President and Chief Executive Officer of Pathfinder International.
Next week Mane will visit the Kalamazoo College campus to give a talk titled "Catalysts for Change: Empowering Youth through Sexual and Reproductive Rights." The event will occur on Tuesday, October 22, at 7 p.m. in the Mandelle Hall Olmsted Room. It is free and open to the public.
Pathfinder International believes that people everywhere have the right to live a healthy sexual and reproductive life. For more than 55 years, The organization has worked to expand access to quality sexual and reproductive health care to enable and empower individuals to make choices about their body and their future. "When people take charge of their life choices–such as if or when and how often to have children–they gain confidence and strength," said Mane. "They can better pursue their education, contribute to the local economy, and engage in their communities."
Mane is a distinguished diplomat, leader, manager, academician, and social activist, as well as an internationally recognized expert on HIV, maternal health, behavior change, gender, and population. Pathfinder International has more than 1,000 staff around the world, an annual budget exceeding $100 million, and sexual and reproductive health programs in more than 20 developing countries.
Mane's visit to Kalamazoo College is co-sponsored by the Center for Civic Engagement and the Office of Student Development.