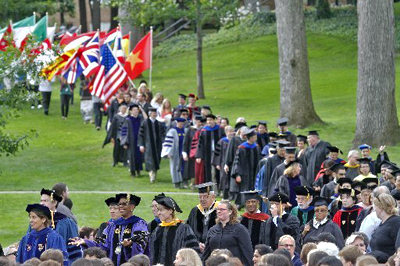 Kalamazoo College kicks off the 2016-17 academic year on Wednesday September 7 at 3 p.m. with its annual opening convocation ceremony for new students ready to begin their liberal arts adventure.
The ceremony will take place on the campus Quad and be available via live streaming. In case of rain, the ceremony will move into Stetson Chapel.
President Jorge Gonzalez, Provost Michael McDonald, Dean of Students Sarah Westfall, Chaplain Elizabeth Candido '00, faculty, staff, and student leaders will welcome new students and their families. Jeffrey D. Hsi '83, Ph.D., J.D., will deliver the keynote address. Jeff is a shareholder at the intellectual property law firm of Wolf Greenfield, and his career both at the bench and at the bar testifies to the power and versatility of the K-Plan.
K will welcome 354 first-year students (including 27 matriculating international students), 11 transfer students, and 24 visiting international students. New students come from 24 states within the U.S., including Alaska, Maine, Florida and California, and from 22 countries including, Japan, Ecuador, Greece, Vietnam, Nepal and Senegal. Students of color from the U.S. make up more than 30 percent of the incoming class. Fifteen percent of the incoming class will be the first in their families to attend college.
The class of 2020 is outstanding in many ways. About 11 percent achieved state honors in academics, athletics or both. Forty-two percent participated in one or more sports in high school, and 28 percent of those served as team captains. Fifteen percent of the class served in student government, and 10 students were their class presidents. Thirty-two percent participated in music (seven of them garnering state honors). Ninety-one percent took college course work during high school, and 84 percent of the class did volunteer work in civic organizations and social justice causes. Welcome, Kalamazoo College class of 2020!