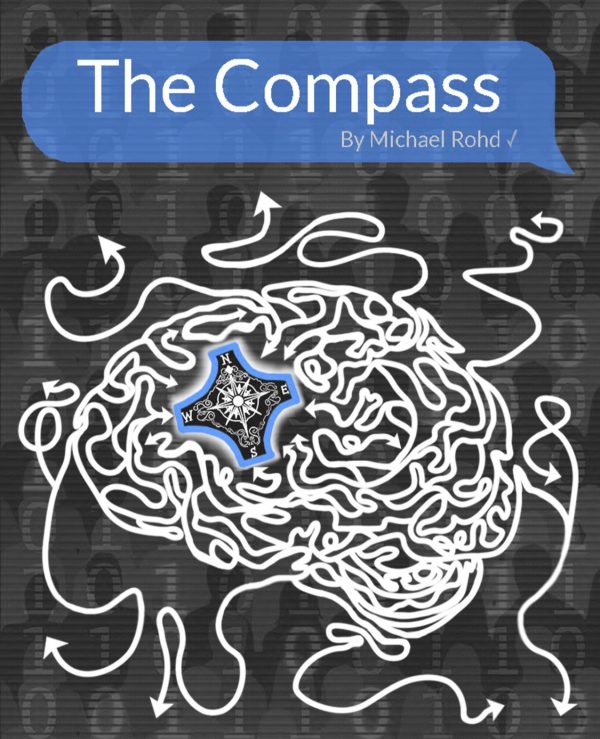 If you've ever wanted to choose a character's fate when you're watching a play, Kalamazoo College's Festival Playhouse has a production coming this week you'll want to see.
Originally devised and produced at Steppenwolf Theatre in Chicago, The Compass explores technology's impact on decision-making. When an app tells Marjan, played by Xochitl Robertson '23, to commit a crime to prevent a mass shooting at her school, the audience helps decide her fate by answering whether she should be held accountable.
"The Compass poses several questions that we seek to answer together with the audience," said Visiting Professor of Theatre Arts "C" Heaps, the play's director. "What role does technology play in our lives? When does the greater good outweigh the strictly lawful? What, ultimately, is the right thing to do?"
Through a series of flashbacks and real-time scenes, the in-person audience learns the full story of her decision, and ultimately influences the trial's outcome.
"The audience acts as a jury for the trial at the heart of the play," Heaps said. "Juror facilitators lead discussions with them at key points in the play and then represent their section's opinions on stage. The biggest challenge was finding a way to seamlessly take a vote, collate those responses and get them back to the jury foreperson, who is on stage the whole time, so he can announce the verdict. We also had to provide multiple options for sound cues to account for different choices by the audience."
The cast includes Trevor Loduem-Jackson '21 as Chaz Perez and Kenneth, Isaac Presberg '24 as an entrepreneur and Mr. Ferguson, Meaghan Hartman '23 as Ada and Blanca, Emma Fergusson '22 as prosecutor and Ms. Ellis, and Matthew Swarthout '22 as a defense lawyer and principal. Arman Khan '24, Abby Nelson '24, Brooklyn Moore '24, John Carlson '23 and Melody Kondoff '24 serve as jurors and facilitators.
Playhouse staff have implemented strict Actors Equity Association COVID-19 compliance safety guidelines and protocols for The Compass that will allow for live audiences in socially-distanced pods in the Nelda Balch Playhouse, 129 Thompson St. Live productions will be available at 7:30 p.m. Thursday-Saturday and at 2 p.m. Sunday. Reserve your tickets through the Playhouse's Ludus system box office. Adult tickets are $15, seniors are $10 and students are $5 with an ID. Kalamazoo College students, faculty and staff are admitted free with their College IDs.
A virtual broadcast will be available with the Friday production. To watch for $5 from the comfort of your home, purchase your access online.