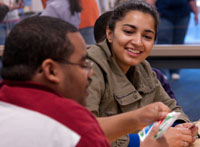 By Faiza Fayyaz '13
Last fall, Professor of English Bruce Mills and a group of ten Kalamazoo College students led by K Civic Engagement Scholar Faiza Fayyaz '13 began the Young Adults Program, a service-learning partnership that pairs K students with young adults on the autism spectrum from West Campus, a public school within the Kalamazoo Regional Educational Service Agency.
Through a series of weekly visits, West Campus students age 17 to 26 have developed close relationships with a group of trained K student mentors while developing tools to transition successfully to a more independent lifestyle. Taking the individual talents and needs of West Campus students into consideration, K students engage in art, recreational activities, and social and relationship-centered experiences that combine to help West Campus students develop socially appropriate interactions in different settings.
The collaboration allows for the personal growth of the West Campus by building skills that help them confidently transition to community involvement, as well as form meaningful relationships with each other. Operated through the College's Mary Jane Underwood Stryker Institute for Service-Learning, the program empowers West Campus students through self-advocacy and greater independence, and provides K students with skills necessary for engaging young adults and others whose ways of knowing reflect a different perspective on the world. By enhancing how K students addresses autism and encouraging personal interactions across the cognitive spectrum, the West Campus Young Adult Program has positively influenced the entire campus community.