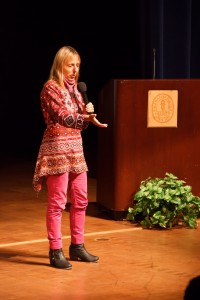 Medea Benjamin kicked-off her keynote speech during the first night of the 2015 Kalamazoo College Global Prize for Transformative Social Justice Leadership with an ironic quip.
"It's interesting to celebrate social justice at a competition," said Benjamin, also a juror for the Global Prize, from K's Dalton Theatre stage. "But in reality, what we are looking to do is not say we are better than anyone else, but that we look to emulate each other out of admiration and inspiration."
Clad in her trademark pink, Benjamin, co-founder of the anti-war, social justice organization Code Pink, spoke to an audience of K students, faculty, staff, and community members and members from the ten finalist organizations vying for the Global Prize.
"We are healers, the visionaries, the transformers," she said to the finalists sitting close to the stage. "We transform what does not work into what can work for the whole world."
It was theopening celebration of a two-day Global Prize weekend hosted by K's Arcus Center for Social Justice Leadership. The night also featured music by Yolonda Lavender and Scarlet, with vocalist Abbie Maikoski, poet Denise Miller, and vocal drummer Dan Davis.
Kalamazoo College President Eileen Wilson-Oyelaran welcomed audience members with the news that the 2015 Global Prize competition would be dedicated to the memory of social justice leader activist and scholar Grace Lee Boggs who died this week at the age of 100. Boggs received an honorary degree from K in 2007 and was a frequent visitor to campus in the last ten years of her life.
Benjamin touched on current-day issues that highlight the need for social justice activists to remain vigilant in fighting – including class, wealth, and racial disparities, as well as climate change, LGBTQI issues, and more, including ongoing wars across the globe.
"For a lot of young people here, war is all they've known."
Through the hard work of organizers and advocates such as the Global Prize finalists in the room, said Benjamin, the needle is moving in the direction of justice on a myriad of issues.
"We're at the tipping point on so many issues," she said. "All because of the work of people like you. We don't do this (work) because it's easy, we do this work because we have to."
Benjamin praised the cooperation between what is seen by some as disparate groups – the LGBTQ and black communities, Palestinian rights groups and the Black Lives Matter movement. The shared urge and passion for equality and justice is what the overall movement is all about, she said.
"Love is the essence of what we do," she said. "It is love that moves us and love that will ultimately win."
The Kalamazoo College Global Prize continues today with presentations from the finalists to a seven-member juror panel and the general public in the Connable Recital Hall in K's Light Fine Arts Building.
One finalist will be selected to receive the $25,000 Global Prize. The announcement of the winner will be made tonight at 8:00 p.m. by President Wilson-Oyelaran at a closing celebration in the College's Arcus Center for Social Justice Leadership (205 Monroe St.). Today's presentations and tonight's closing celebration are open to the public.
Visit here for information about the Global Prize, the ten finalists, and a schedule of Global Prize weekend: https://reason.kzoo.edu/csjl/prize.