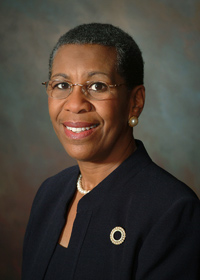 Tweets by @wilsonoy
More in Four: 2012 College Update
Dr. Wilson-Oyelaran's article,
Diversity in Education Abroad: A Plan for Our Campuses
, appears in the Spring 2011 issue of
The Networker
, the magazine of the Institute of International Education.
Dr. Wilson-Oyelaran's
Martin Luther King, Jr. Birthday Celebration
address to the Kalamazoo community, January 16, 2011.
Dr. Wilson-Oyelaran's Inaugural Remarks,
"A Fellowship in Learning: At Home in the World"
In a series of
video interviews
conducted by the Council for International Exchange of Scholars, President Eileen Wilson-Oyelaran talks about how institutions can benefit from Fulbright Scholar grants.
President Wilson-Oyelaran addressed students, faculty, staff, alumni, and honored guests on the occasion of the 50th anniversary of the College's Study Abroad program in 2008. Read excerpts of her remarks:
President Eileen B. Wilson-Oyelaran
Dr. Eileen Wilson-Oyelaran assumed the role of 17th President of Kalamazoo College in July 2005 with an energy and excitement that has generated great expectations among the college's constituents. She brings to her work a record of distinction in the realm of higher education and early child development, both in this country and abroad, and she is well equipped to lead Kalamazoo College as it moves to greater eminence.
A native of Los Angeles, Dr. Wilson-Oyelaran earned her B.A. in sociology from Pomona College, and an M.A. and Ph.D. in education from the Claremont Graduate University. She was no stranger to international education, having completed an undergraduate study abroad experience in England where she studied the education of immigrant children. She was also the recipient of the Thomas J. Watson Traveling Fellowship, which enabled her to execute independent research in Ghana, Nigeria, and Tanzania. After completing her doctoral work in early childhood development, she accepted her first academic position at the University of Ife (now Obafemi Awolowo University) in Nigeria, teaching in both the departments of education and psychology. Ife, where she served as a department chair and Vice-Dean of the Faculty of Social Sciences, would be her academic home for 14 years.
Dr. Wilson-Oyelaran's scholarly focus is in child development and education in cross-cultural context, and she has published widely in this area. While in Nigeria she served as a consultant for UNICEF (Nigeria) and designed a series of baseline surveys that became the model for assessing the status of children under five throughout the country.
In 1988 when her family left Nigeria for the United States, Dr. Wilson-Oyelaran became visiting scholar in education at North Carolina Wesleyan College and then associate professor and chair of the department of education at Winston-Salem State University. In 1995, she became Dean of the College at Salem College, and rose to the position of Vice President of Salem Academy and College and Dean of the College. She also served as acting president of Salem College for a brief period.
Her honors and awards are legion and include the Kent Fellowship, American Council on Education Fellowship and the Visionary Leadership Award presented by the Claremont Colleges Intercollegiate Office of Black Studies. A strong proponent of equity and inclusion, Dr. Wilson-Oyelaran has been honored nationally and locally for her work on behalf of young women and girls. She is the recipient of the American Association of Colleges of Teacher Education (AACTE) Gender Equity Architect Award, the Salvation Army's Strong, Smart, and Bold Award, and the YWCA Woman of Vision.
She is married to Dr. Olasope Oyelaran and they have raised four wonderful children-Adedoyin, Oyindasola, Omosalewa, and Oyeyinka.
President Eileen Wilson-Oyelaran recently appeared on the Emmy award-winning Detroit Public Broadcasting (WTVS Ch. 56) program "Leaders on Leadership." The program was recorded live on tape before a studio audience at Wayne State University in Detroit, and broadcast April 3, 2011. Each half-hour episode of "Leaders" features a one-on-one interview with a leader of a local, state, or national organization, many with ties to Michigan. Host Larry Fobes aims to show the personal side of leadership and people behind the important decisions that affect lives and shape futures. Currently in its seventh season, "Leaders" has featured guests such as AFL-CIO President Richard Trumka, General Motors Vice Chairman Bob Lutz, former U.S. Treasury Secretary Paul O'Neill, and University of Michigan President Mary Sue Colemen. Major funding for Leaders on Leadership is provided by Greenleaf Trust. Watch President Wilson-Oyelaran's "Leaders on Leadership" interview here.